Netflix has fired Andy Yeatman–the former director of the streaming service's global kids content–after he told a woman at a kids' soccer game that executives at the company "don't believe" Danny Masterson's four rape accusers, according to The Hollywood Reporter. Yeatman was reportedly fired on Monday as a result of the comments he made in early December to a woman who did not reveal herself to Yeatman as one of Masterson's alleged victims until after he addressed her question as to why the actor was, at that time, still employed as a star of  the Netflix show The Ranch despite being the subject of an active LAPD investigation.
"Mr. Yeatman is no longer employed at Netflix," a company spokesperson confirmed to THR in a statement. Yeatman declined to comment.
After Huffington Post published a report of the altercation with Yeatman and the woman, whom they identified as "Victim B," the company released the following statement, which drew criticism because it inferred that Yeatman would have altered his response to Victim B, if he had known that she was one of Masterson's alleged victims.
From Huffington Post: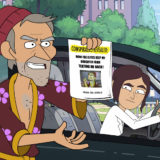 "While he was coaching a youth soccer match today, Mr. Yeatman ― a Netflix kids' programming executive ― was approached by a stranger who did not identify herself or explain her connection to Danny Masterson," the statement read. "Mr. Yeatman's comments were careless, uninformed and do not represent the views of the company. Further, he would have no insights into decision making on The Ranch. We are aware of the allegations against Danny Masterson and we are following the current investigation, and will respond if developments occur."
The next day, Netflix announced that Masterson had been written out of The Ranch and production will resume without him. Masterson responded with a statement that expressed disappointment with the decision and categorically denied the sexual assault allegations.
Masterson joins former House of Cards star Kevin Spacey and comedian Louis C.K. as performers the streaming service parted ways with after sexual misconduct allegations went public.