Jamie Foxx sat down on Power 106 FM Los Angeles' The Cruz Show to talk about how he came up as an actor and comedian. At one point, the conversation turns to music, and Foxx gets into a story about how for the longest time, he was always struggling to get into the music industry until a certain single with Kanye helped him finally break through to the charts.
In the video now uploaded to YouTube, Foxx talks about a bunch of parties he threw in the early '00s where he'd invite musical friends over in hopes of getting them in the studio to collab. According to Foxx's retelling, the parties brought Jay-Z, Missy Elliott, The Neptunes, and eventually a young Kanye West, who shook the crowd with an incredible freestyle. The two eventually make it into the studio, where Kanye says he's got a song for him to sing on. From there, the two record the hook for the Twista classic "Slow Jamz," which in Foxx is retelling has much more to do with Kanye's coaching than most listeners realize.
"'I got it, Kanye, let me perfect what you singin','" Foxx says. "I'm doing all this R&B stuff 'cus I'm old, I didn't know that this was hip-hop and Kanye went, 'Uhh…don't do that. It's hip-hop, just follow me.' So in my mind, I'm thinking, 'This song is wack, he's never gonna make it.' I do the song anyway and I leave to do a bad movie for six months…And when I come back, and they say, 'Remember that song with Kanye? It's number one.' And that's how I got into music."
From there, Foxx goes on to break down just how they went from "Slow Jamz" to rework Ray Charles' "I Got a Woman" into their Grammy-winning 2005 hit "Gold Digger." It's a great story about truly how much of Jamie Foxx's career in music is indebted to Kanye. "And the rest," as Foxx puts it, "is now history." Watch below.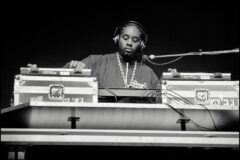 Wow… we gotta thank Kanye for Jamie Foxx too? The 🐐 for real pic.twitter.com/shMuYUnOpZ

— Young Quavious (@_theycallmetrey) December 16, 2017