Musician Ethan Kath of Crystal Castles is under investigation by the Toronto Police Service for alleged sex crimes, The Daily Beast reports. A source with knowledge of the investigation told the Beast that police are looking into complaints "from several women."
Kath, born Claudio Palmieri, was accused of sexual, physical, and emotional abuse by former bandmate Alice Glass in October. In a statement posted on her website, Glass alleged that Kath, who is ten years older, first coerced her into having sex when she was in 10th grade. She detailed years of alleged controlling behavior, psychological manipulation, physical abuse, and sexual assault:
He controlled everything I did. I wasn't allowed to have my own phone or my own credit card, he decided who my friends were, read through my private emails, restricted my access to social media, regulated everything I ate. He berated me and yelled at me, telling me that I was a joke, that all the people that came to our shows were only interested in his instrumentals and that I was ruining the band. He broke glass shower doors to frighten me, he locked me into rooms. He told me that my feminism made me a target for rapists and only he could protect me. He forced me to have sex with him or, he said, I wouldn't be allowed to be in the band anymore.
Glass left Crystal Castles in 2014.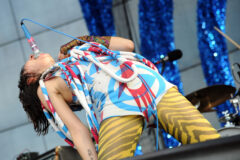 Kath has called Glass' allegations "pure fiction" and sued her for defamation, claiming $300,000 in lost profits from Crystal Castles concerts that were cancelled after Glass published her statement. An individual claiming to be a fan served Glass a court summons outside her solo show in Chicago last month. "lol see you in court asshole," Glass wrote on Twitter.
A second accuser involved in the police investigation told the The Daily Beast that Kath first contacted her on social media when she was 15, and initiated a sexual relationship when she was 16. "I want this guy's insane horrible mistreatment of underage girls to be out in the open for everyone to know and to protect themselves," she said.