No one has made the real time devolution from impossibly famous superstar to singular case study like Eminem has. In 2017, his legacy as a gifted rapper is centered on the dichotomy of his appeal. Marshall Mathers' struggles through abject poverty and his unassailable rhyming abilities gave him legitimacy in a predominantly black culture, but the invective the verses were laced with made him a conduit of white rage.
Since Eminem's turn-of-the-century peak, those two sides went from coexisting at a fraught distance to appearing diametrically opposed. The rage offends because it wouldn't be afforded the same level of grace and empathy from that Middle American audience had it come from a black rapper. Eminem has at least made it clear which side of that schism he stands on, directing some of the venom from his BET Hip-Hop Awards verse "The Storm" to the part of his fanbase that supports Donald Trump, the new spokesperson for privileged angst. But well before the performance, hip-hop—still mostly black, for now—had already moved on from Em's aesthetics and what he represents.
With those two pillars out from under him, Eminem the artist is left with nothing—or, as he calls it, Revival. The failures of his latest effort don't simply center on that side step from audacity to reckoning. It's in how that move has somehow left him struggling to write a listenable song. Eminem's newest attempt at introspective balladry maybe could've worked; however on "Walk on Water," there's nothing that coheres his atonal wail with Beyoncé's elegance. Sometimes, the problem lies in something as fundamental as common sense. There's no argument for Scram Jones sampling the Cranberries' "Zombies" in 2017, yet they're here on the laughably melodramatic "In Your Head." Who's checking Em on these decisions?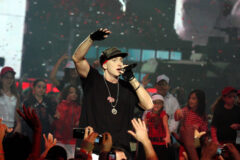 On Revival, Eminem mixes just enough wokeness to acquit himself with some on-brand crudeness to prove he hasn't completely jumped the righteous shark. (On "Heat": "I'm just kidding girl, I wouldn't lift a finger or two / Unless it's the middle one to finger you.") Neither approach compels—nearly every punchline winds up feeling as forced as a stranger sparking a conversation at a urinal. On the purulent "Chloraseptic," Eminem delivers his lines with enough space for the stench to truly fill the room: "Like your bitch when she gives me brain / Like she thinks I'm dumb."
The anticipation for Revival had bottomed out well before Eminem dropped his Black Like Me-esque "Untouchable," when he revealed the cadre of inoffensive pop stars that pepper its tracklist. Making predictions off just that is often specious at best (remember, Kendrick Lamar featuring U2 is actually good), but these all seemed like safe choices for an artist critiqued for the lack of progression in his craft. Unsurprisingly, the pessimism was justified. The arc of history doesn't dictate that Eminem has ever made a good song with X Ambassadors or Pink, and they still sound bad on "Bad Husband" and "Need Me," respectively. The latter might've been an inside job: It's a vomitous sonic Crayola mess. "Like Home" is an anti-Trump patriotism anthem that uses an extended bird metaphor that concludes, "Why you think he banned transgenders from the military with a tweet?" Eminem makes the odd decision to leave a synthetic placeholder in the hook's vocal track; the official track list says that's supposed to be Alicia Keys, but there's a jig there somewhere.
One of the clearest indicators of Eminem's directionlessness is how he's still letting Alex Da Kid of "Love the Way You Lie" fame land production credits on his albums (that's him on "Need Me"). At best, he has a gift for making commercial music for a mismatched Eastern Conference first round playoff series. Here, his beats sounds like the kind of hip-pop schlock B.o.B might've been smart enough to leave off his first album. They're so bad that they almost obscure similarly terrible work from Rick Rubin, who contributes limp balladry ("Walk on Water") and regressive rock rap rehashes ("Heat")—on the latter, he timidly backs away and lets Eminem swing wildly at the beat. The indignation of having to sit through Rubin's blatantly unimaginative Joan Jett and the Blackhearts sample on "Remind Me" comes with Eminem loudly whiffing every line ('Your booty is heavy duty, like diarrhea").
Like the slightly less mediocre Marshall Mathers LP 2, Revival's saving grace is Eminem's technical ability. His boyish obsession with internal rhyming and homophones is what unites the album. It does come together for the album closing "Arose," where he delivers a painterly and wrenching account of his near death from an overdose ("Wish I had the strength to just blow a kiss / I go to make a fist, but I can't make one, I'm frozen stiff"). If you squint, there's an Eminem classic in "Offended." As he switches from double time to cribbing Migos triplets, he manages to yell about giving a "facial to an interracial blow-up doll of Rachel Dolezal," equates his cutback on woman-hating to "Ray Rice when he Facetimes," and insults Ivanka and Melania Trump explicitly in a hope to finally grab Donald's attention (he notably didn't respond to "The Storm"). There's a verve with which he spits these bricks that inspires the same morbid fascination as a 5-for-20 night from an aging Kobe Bryant.
But "Offended" ultimately feels exhibitionist, which doesn't quite work when Eminem is struggling to find his purpose to justify the album's bloated 77-minute runtime.  Even the plainspoken, persona-referencing advice he aims at his daughter works as an unintentional metaphor: "Tell myself like I used to tell Hailie when life's a drag / Told her to do like her dad: Don't cry, get mad." Revival constantly asks what is Eminem if he never had followed that advice.