Donald Fagen appeared on yesterday's installment of Rolling Stone's Music Now podcast. The discussion is the Steely Dan co-founder's lengthy and open interview since Walter Becker's death in September. Fagen spoke about Becker's death and how, given that he "had been ill for quite a while," it didn't come as a complete surprise. He said that Becker was "listening to hard bop, Dexter Gordon or something like that" when Fagen visited him on his death bed.
Fagen couldn't talk much about the current legal proceedings stemming from his lawsuit for full rights to the Steely Dan name, but he did comment briefly on his rationale: "Years ago…Walter and I had a contract, a really simple thing that a lot of bands have…" Fagen said. "If someone dies they sell their rock'n'roll stock back to the company….We're just trying to defend that contract."
He also explained that there were commercial pressures on him to keep calling the group "Steely Dan": "I would actually prefer to call it Donald Fagen and the Steely Dan Band or something like that. We got a lot of flak from Live Nation about [not] calling it Steely Dan…To me, Steely Dan was just me and Walter."
Fagen also mentioned that he'd hoped to make another Steely Dan album in the 2010s, but the idea never got of the ground: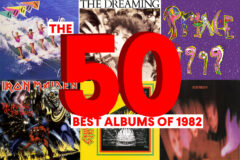 Walter had some health problems, and especially after 2011, '12…he had a little bit of a personality change and he was much more isolated, and he kind of wasn't that interested in working on Steely Dan records anymore…It also might have to do with…the specter of doing an album that would be on the same standard that we did previously. Maybe that scared him a little bit, or he didn't have the energy….'Cause I did ask him once in a while if he wanted to do something, and he'd usually say, 'Yeah, sure,' but then he wouldn't call me or whatever, so obviously he'd lost some of the enthusiasm.
The podcast is really worth listening to for Steely Dan fans. It includes some entertaining discussion of the customized drum machine that they built to use on Gaucho (for $200,000), Steve Gadd's drum solo on "Aja," trying not to write too goofily in Steely Dan's early days, how listening to Laura Nyro (Eli and the Thirteenth Confession, especially) encouraged them to be "more experimental," Fagen wanting to join Bob Dylan's backing band, and a lot more.
Fagen remembered Becker saying, after the then-legacy band won their 2001 Grammy for Two Against Nature, that they "weren't being applauded for our body of work, but for our bodies that work." R.I.P. Walter.
Read our recent feature on Steely Dan and Aja here. Listen to the Rolling Stone podcast below.
https://player.megaphone.fm/PNP9859712949?