This month, Danny Boyle and Banksy collaborated on an odd project: The celebrated British filmmaker agreed to help the infamous street artist, whom Boyle had never met, realize his version of a Christmas nativity play. In just six weeks, Boyle facilitated putting together the performance, which was eventually staged in the parking lot of Banksy's current installation (and also actual hotel) The Walled Off Hotel in Bethlehem. According to the BBC, an hour-long documentary about the performance, The Alternativity, will be screened on BBC Two on Sunday (December 17).
Directed by Martin Webb and Lauren Jacobs, The Alternativity supposedly documents Boyle's uphill battle with realizing Banksy's vision, which, according to recent video footage, seems to feature children from the area singing an adaptation of "Jingle Bells" underneath a glowing shooting star (see below).
Banksy presaged The Alternativity with two new street artworks in Bethlehem. One features two stenciled cherubs prying open two panels on the separation wall, and the other is a text piece reading "Peace on Earth," with a shooting star serving as an asterisk for the qualifier "Terms And Conditions Apply." The anonymous artist also created the poster for the documentary, which you can see below. 'Tis the season for some extremely Banksy-esque Banksy stuff, with a extra dose of "makes you think" Yuletide cheer.
https://www.facebook.com/plugins/video.php?href=https%3A%2F%2Fwww.facebook.com%2Fwalledoff%2Fvideos%2F301875533635619%2F&show_text=0&width=560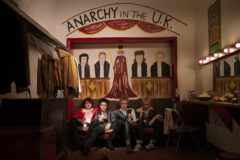 A young talented Palestinian director Riham Isaac co-directing one of the best nativity shows this year at walledoff hotel in Bethlehem with the one and only Danny Boyle! #alternativity #nativity#christmass#bestshowbethlehem#walledoff#dannyboyle#rihamisaac #banksy @RihamIsaac pic.twitter.com/9MxQYr2rkz

— Riham Isaac (@RihamIsaac) December 6, 2017