21-year-old rapper 6ix9ine—whose single "Gummo" has scaled the Hot 100, peaking at No. 12 last week—is as known for his criminal history as he is for his music (or his garish appearance). Back in October of 2015, the rapper (born Daniel Hernandez) pleaded guilty to the use of a child in a sexual performance. Hernandez was charged with appearing in a video in which an underage victim performed sex acts and uploading the footage to social media. At the time of the crime, the rapper was 18, while his victim was 13. In an interview with Akademiks, Hernandez stated he believed the victim was older than himself, but he ultimately didn't know her real age: "I don't know her exact age, I think she was 14 or some shit like that."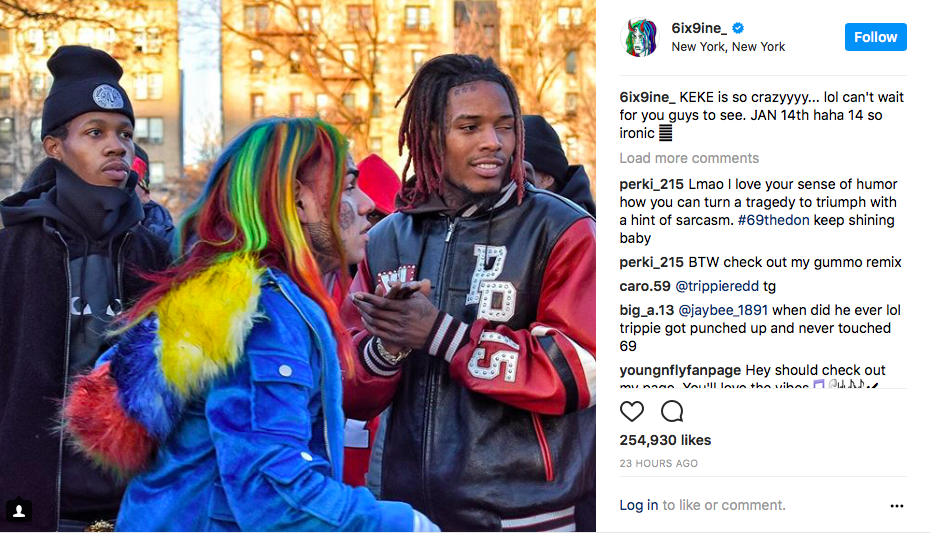 Last night, the rapper referenced that statement in a grossly insensitive Instagram caption, attached to a photo which was deleted just before the publication of this post: "JAN 14th haha 14 so ironic," the rapper wrote, both teasing the remix of his song "Keke" and, uh, making a joke about how he was charged with a sex crime against a minor he believed to be 14. Jan. 14 is just two weeks before Hernandez's Jan. 30 sentencing hearing. The rapper, if he follows all the terms of his plea agreement, will face three years probation for the felony. If he violates any, he faces one to three years in prison.
Update: Commenters have pointed out that 14 may be a reference to 6ix9ine's one-time collaborator but now enemy Trippie Redd (aka Lil 14), though the joke nonetheless underscores 6ix9ine's flippancy in dealing with the crimes he has been charged with.