Last month, Shamir released a video for "Straight Boy," a song from his upcoming album Revelations. This morning, Shamir said he was removing the video from YouTube after he became aware of an allegation of sexual assault levied against the video's director and co-star.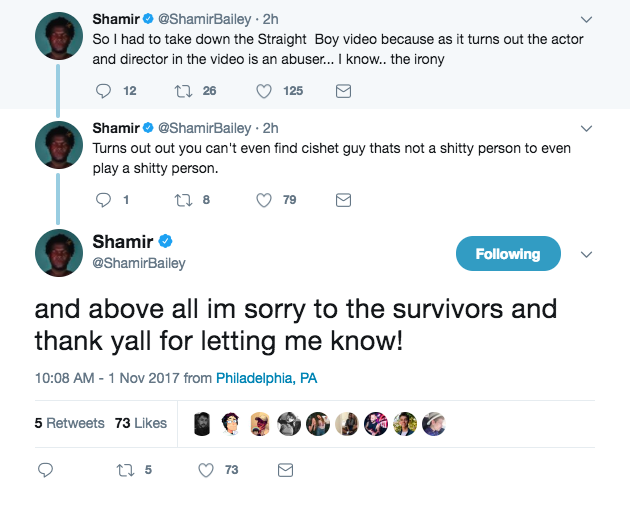 Reached over e-mail, Shamir said the allegations were first made known to him via a comment left under the video accusing the director of sexual assault. Shamir said he approached the director about the allegations, and wrote that the conversation "left me with little to no explanation or piece of mind," leading him to remove the video. The allegations were made yesterday, and the video had been pulled offline this morning.
Here's his full statement:
"I found out through a disturbing comment left on the video, so I immediately just took it down. I might do an alt video, but not sure as of now, just quite sad because i considered this person a friend too. I do believe it to be true because a while back he told me a girl accused him of abuse in college, he denied it and said it was all chalked up to just a misunderstanding. I took the info at face value because his friend from college concurred. I didn't know his reputation back in Florida because we met in Brooklyn and would just see each other either out there or in ​P​hilly. So when I saw the comment my heart dropped to my stomach. Obviously I approached him about it, and he left me with little to no explanation or piece of mind, and even seemed quite nonchalant about it, so i told him im taking it down and did so immediately."​
This afternoon, Shamir released an alternate video for "Straight Boy," in which he performs the song acoustically by himself:
The last few weeks have seen a groundswell of sexual assault allegations made against men in the entertainment industry, including several in music such as Matt Mondanile, the Gaslamp Killer, Crystal Castles' Ethan Kath, and Alex Calder. Mondanile's music has been pulled off streaming services, and a Japanese tour was cancelled. The Low End Theory, a club night that the Gaslamp Killer was affiliated with, has since parted ways with him. Calder was dropped by Captured Tracks, who were set to release his new album. Multiple Crystal Castles shows have been cancelled following the allegations against Kath.
Spin has reached out to the director, who we are choosing not to name due to lack of detail about the allegations, but have not heard back.