Friday, Say Anything frontman Max Bemis spoke out on Twitter about sexual misconduct allegations surrounding the punk and emo communities. Regarding cheating on spouses and pursuing underage women—which, it feels worth noting here, are two very different allegations—he says, "I was a naive kid when I entered 'this scene' at 19 and found out that a lot of people I knew of or looked up to repeatedly cheated on their spouses and girlfriends, hooked up with underage girls, etc." He continues:
"It has been heartbreaking and continues to be jarring as someone who I hope is different. It makes me question even the mutual non-coerced of-age interactions I've had with women during my youth. We should all question the dynamics of sexuality and our role in this."
Assuring fans that he "would never cheat on [his] wife or betray [his] family," he also notes that he'll be retiring the Say Anything song "Wow I Can Get Sexual, Too" for the "foreseeable future," as it portrays a "sarcastic caricature of someone I've never been at all and is no longer appropriate during this crisis." The song, which fairly transparently describes the speaker's guilt for pursuing a girl "too young to be this empty," apparently takes on a different meaning in the current moment.
Though Bemis didn't specify exactly what inspired his thoughts here, his tweets came the same day that allegations of sexual misconduct were made regarding Brand New frontman Jesse Lacey. Read Bemis' thoughts in full below.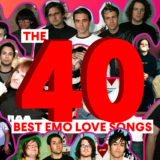 Gotta sound in

— Max Bemis (@maxbemis) November 10, 2017
I was a naive kid when I entered "this scene" at 19 and found out that a lot of people I knew of or looked up to repeatedly cheated on their spouses and girlfriends, hooked up with underage girls etc

— Max Bemis (@maxbemis) November 10, 2017
It has been heartbreaking and continues to be jarring as someone who I hope is different. It makes me question even the mutual not-coerced of-age interactions i've had with women during my youth. We should all question the dynamics of sexuality and our role in this.

— Max Bemis (@maxbemis) November 10, 2017
That being said, I've never and would never cheat on my wife or betray my family and that is also a form of emotional abuse I see pervaded by many many people in entertainment as well as this other obvious creepy shit

— Max Bemis (@maxbemis) November 10, 2017
Given all of this, I'm going to be retiring the song Wow I Can Get Sexual, Too for the foreseeable future. It may speak partially of my flaws but it's mostly a sarcastic caricature of someone i've never been at all and is no longer appropriate during this crisis

— Max Bemis (@maxbemis) November 10, 2017
consent is a no brainer (obviously not to some) but it can even go beyond that into much more finicky places. maybe i kissed a girl who was having a secret emotional crisis i never asked about. maybe somebody i was with was already in a relationship. this is a social disease..

— Max Bemis (@maxbemis) November 10, 2017
the most chronic dire symptom of which being rape, coercion, and sexual assault. we all need to care more, respect women more, respect ourselves more and GIVE A SHIT

— Max Bemis (@maxbemis) November 10, 2017