Def Jam co-founder and entertainment mogul Russell Simmons says he is stepping down from his companies following a second accusation of sexual assault. In a letter published today by The Hollywood Reporter, screenwriter Jenny Lumet accused Simmons of taking her to his apartment against her will and sexually assaulting her in 1991.
"I need no one to have this visualization of me. I will, like the others, lose work because of this," Lumet wrote. "As a woman of color, I cannot express how wrenching it is to write this about a successful man of color."
Lumet, the daughter of director Sidney Lumet and granddaughter of entertainer Lena Horne, is best known for writing the 2008 film Rachel Getting Married. She told no one about the incident with Simmons, she wrote, until "after the Harvey Weinstein story was in the news, but weeks before the first public claims were made against [Simmons]."
In a response to Lumet's letter, Simmons apologized, writing, "While her memory of that evening is very different from mine, it is now clear to me that her feelings of fear and intimidation are real." He continued, "I don't want to be a distraction so I am removing myself from the businesses that I founded."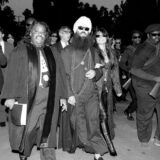 The first public claims against Simmons appeared earlier this month, when former model Keri Claussen Khalighi accused Simmons and film director Brett Ratner of teaming up to coerce her into oral sex, also in 1991. Khalighi additionally accused Simmons of assault. (Ratner faces separate accusations of sexual misconduct and harassment from multiple women.) At the time, Simmons said he "completely and unequivocally" denied allegations of non-consensual sex.
Simmons co-founded Def Jam Recordings with Rick Rubin in 1984. In years since, Simmons has also produced HBO shows including Def Comedy Jam, founded once-popular clothing label Phat Farm, and opened a Los Angeles yoga studio and clothing brand.