Last week, solo artist and former Crystal Castles singer Alice Glass alleged that former bandmate Ethan Kath subjected her to years of physical, emotional, and sexual abuse beginning when she was 15 years old. Kath fired back with a statement calling Glass's accusations "pure fiction" and said he was "consulting my lawyers." On Friday afternoon, TMZ reported that Kath filed a defamation lawsuit against Glass over her allegations.
TMZ's report implies this is not the first time Kath (real name Claudio Palmieri) resorted to legal action in his long-running dispute with Glass (real name Margaret Osborn). The defamation lawsuit reportedly references a previous cease and desist letter, which according to TMZ addressed earlier statements Glass made about escaping alleged abuse. In a statement posted to her website in July 2015, Glass described "an abusive relationship that started when I was a teenager," without naming anyone involved.
After Glass departed Crystal Castles in 2014, Kath continued the group with a new singer, Edith Frances. Following Glass's most recent allegations, Crystal Castles' upcoming tour dates were canceled. Kath's lawsuit reportedly claims $300,000 in lost profits as a result of the cancelations.
In a statement to TMZ, Kath says he and Glass had a "personal and professional" relationship and claims she left Crystal Castles because of "mental health and substance abuse issues." Read Kath's statement below.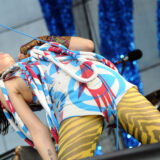 "Alice and I had a long ongoing relationship both personal and professional. When she suddenly left Crystal Castles to handle her mental health issues and substance abuse issues I fully supported her. I will continue to support her quest to wellness but I can't support extortion, false claims, and accusations put forth after the band attained new success without her. … False allegations take away voice from true victims and that's what saddens me most about all of this."