Kirin J. Callinan has a new pair of swim trunks. They're camo print, quite short, with a cartoon beaver just above the bare thigh. He bought them at Buc-ee's, the Texas roadside convenience emporium. On a rainy Tuesday night at the end of August, he's talking to the woman working the door at Mercury Lounge, a grimy establishment on the Lower East Side of Manhattan. She'd like to know how long his set lasts. "Somewhere between five minutes and… two to three hours," Callinan tells her, seeming to relish being unhelpful.
The show starts late and runs upward of 90 minutes. Callinan plays guitar and sings while his younger half-brothers, Mahne Frame and Tex Crick, juggle drums, keyboard, and saxophone. Callinan has an unusually rich baritone like Depeche Mode's Dave Gahan, paired with the shirtless flamboyance of Iggy Pop. His signature dance move is a lateral fist pump, followed by a hip gyration. At one point, he ejects his brothers and sings a cappella while galloping from side to side, accompanied only by the clank of his boot spurs.
Not everyone's having it. A heckler insists, loudly and repeatedly, that he has paid $10 to be here and he has not yet received his money's worth. Later, Callinan halts the music to talk shit himself, and a projectile—a lime wedge, maybe—flies from the opposite side of the room and strikes him in the chest. "Was it a come-on?" he ventures from the stage. "Jealousy?"
Both weird and Australian, Callinan occupies a peculiar tier of notoriety. He declines to give his age, though an educated guess puts him around 31. He grew up in the relatively affluent Northern Beaches outside Sydney, the son of Brendan Callinan, a former member of the Australian band the Radiators. Kirin's not famous, exactly, but he's not not famous either. He hasn't deigned to write his own Wikipedia page, so he doesn't have one. If he did, it might list his two solo albums, his old band Mercy Arms, his stint as Mark Ronson's guitar player, his budding acting career, and his latest project, a soft-rocking new wave band called the Night Game. Its frontman is former Boys Like Girls singer Martin Johnson, now a pop songwriter partially responsible for, among other things, Avril Lavigne's "Hello Kitty." This year, with just one song officially released, the Night Game toured the U.S. with John Mayer. In Callinan's orbit, the distinctions between talent, irony, and genuine bad taste bleed together until they're indistinguishable.
***
The day after the Mercury Lounge show, I meet Callinan for lunch in Williamsburg, where he's still wearing the Buc-ee's trunks. The previous night went well, in his opinion. "It was a late show, they were quite drunk, belligerent, there was a rogue element," he says, cracking a sly grin between bites of barbecue. His typical John Waters-style pencil mustache is fully grown in, and his close-cropped hair is bleached brassy orange. "The rogue element was my favorite." He found the New York City crowd a bit stand-offish; the lime restored his sense of connection with the audience. Even today, his more outlandish habits—he's brought along his own photographer and strikes exaggerated poses at every opportunity—are tempered by good humor. He's affable and surprisingly polite.
The recent U.S. tour was arranged to promote Callinan's sophomore solo album Bravado, a wacky, genre-blind gem. Back in 2015, Callinan played an early version for XL Records, the label that released his first album, 2013's Embracism. "It was the best it ever sounded," he recalls. "But I just knew they were not putting this out. It was more to do with, I think, the money they'd invested in the first record, which they had not got back in sales, not by a long shot." The label dropped him. For a time, even Callinan was unsure what do with his album. "It sounded great on that day at XL," he says, "But then other days I listened to it and it's like, 'What the fuck is this?'"
What the fuck is it, indeed. Over 10 feature-loaded tracks, Bravado ping-pongs between Embracism's conceptual industrial rock, '80s-inspired balladry, squelchy, fist-pumping EDM-pop, a specific type of sentimental nonsense Callinan calls "fou-fou," and even a little authentic tenderness. The album title refers to "'a show of boldness intended to impress or intimidate, often without substance,'" Callinan says, quoting the dictionary. "I felt like, there's a word that sums up what I do. Not that it lacks substance, but it does sometimes… That's what my whole stage presence was. That's what me posting dick pics on my Instagram is. It's just provocation. And 'bravado' is the perfect word. But that came after, that was me looking it up." (He first borrowed it from the Blue Nile classic "Tinseltown in the Rain.") The album's cover art is a head-and-shoulders portrait of Callinan, shirtless again, pissing into his own mouth.
Back when he toured behind Embracism, Callinan's image owed less to cowboys and watersports than to goths and metalheads. When I saw him perform in 2014, the stage was orange-lit and thick with fog. Callinan—wiry and shirtless then too—played and sang with possessed force. My first impression of his buoyant, melodic new material was something like whiplash. Predictably enough, Callinan rejects this assessment. "For me Bravado and Embracism are the same record," he says. "It's the same dichotomy of sentimentality and absurdism. I just wanted it to be more heightened, and to be more accessible, and to be fun for everyone."
***
Mercy Arms, the shoegazey mid-aughts indie band where Callinan got his start, were barely known in the U.S., but in Australia they opened for the Strokes and briefly signed to a major label. They split in 2009, after Callinan had a falling out with the frontman ("mainly 'cause the singer was such a fuckin' sack of potatoes"). Sick of the group dynamic, he began working alone. "For years and years my solo thing was just me and a guitar with heaps of effects pedals," he says. His father's later career at the Roland Corporation made for easy access to gear. "The reason I had all those effects pedals, ultimately why I used them, was because I literally couldn't play guitar and sing at the same time," he explains. "I could play a chord, let it do its thing—echo out throughout the room or have some sort of syncopated thing going on—and I could take the time to remember the lyric, sing it, find the next chord, and do that one as well."
This technique proved difficult to capture on record ("you had to be very physically present"), but Callinan put together an album of home demos, provocatively titled Am I a Woman, Yet? and covered by a Xerox print of a double mastectomy patient. He burned it on CD-Rs himself, he says, and though the track lists were identical, he purposely scrambled the order of the songs. The disc was never in wide circulation. Just a handful of material from that period is online, including a piece of indecipherable, quasi-spiritual freak folk called "Meoxhwa."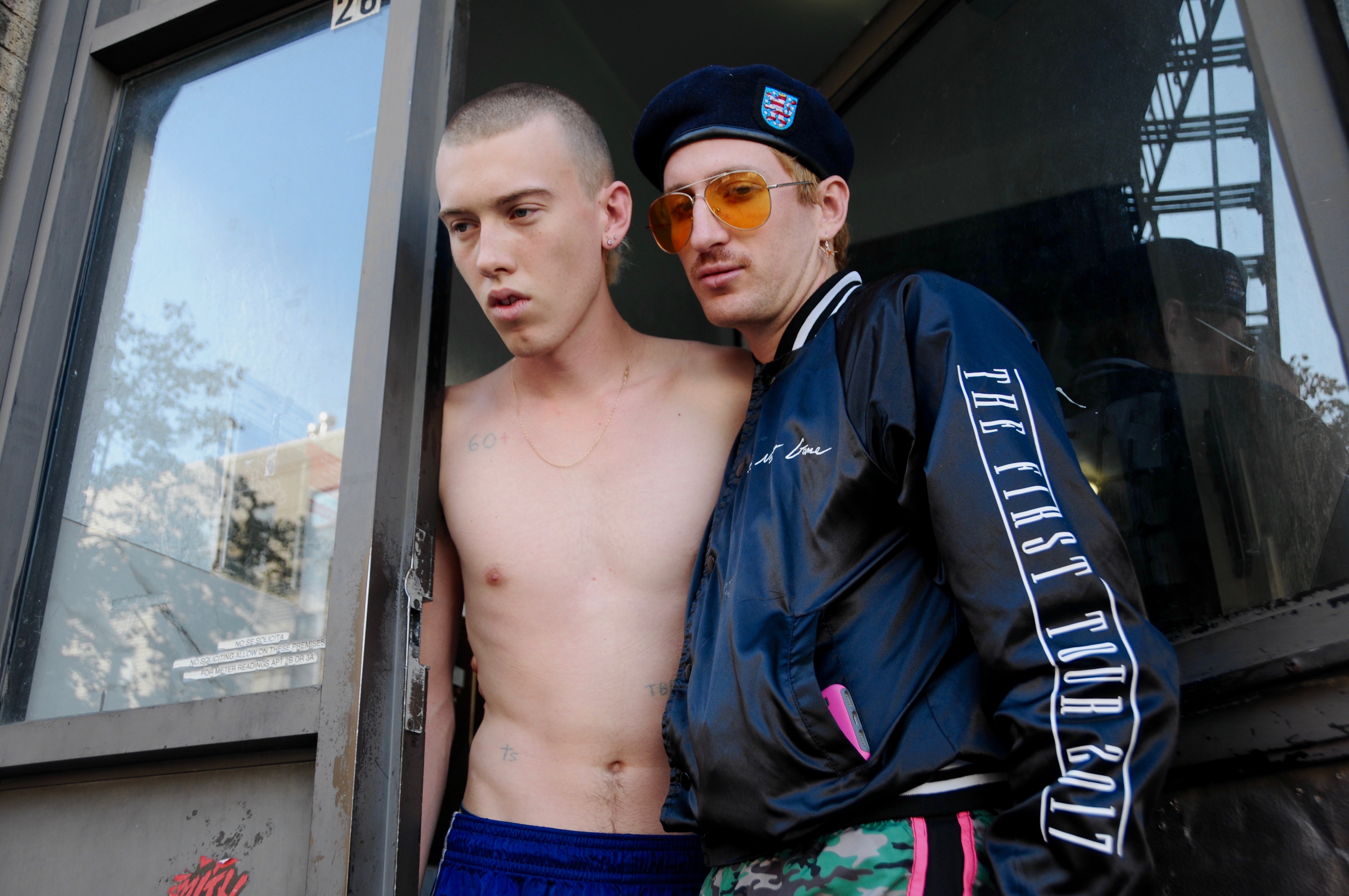 As a solo artist, Callinan has a reputation for both the outrageous and the inadvisable. He once spent a third of a TEDx talk at the University of Sydney attempting to shake a pick out of the body of his guitar, Mr. Bean style. In 2013, Melbourne's Sugar Mountain Festival canceled a set with filmmaker Kris Moyes because the pair had apparently intended to induce an on-stage seizure in a willing participant with photosensitive epilepsy. Moyes then reportedly attempted to screen a rehearsal video instead, as an increasingly angry audience hurled insults and small objects at the two of them. Depending on your level of trust in Callinan, this was either justified artistic censorship brought on by a spectacular error in judgement, a boundary-toeing experiment, or, possibly, an entire staged performance itself.
Sitting a bit uncomfortably alongside Callinan's history of public antics is a pattern of gender provocations. "For a long time with my solo stuff, I was exploring my femininity, I was cross-dressing, and lyrically I was often speaking from the perspective of a female," he said in another 2013 interview. In the DIY video for "Victoria M," one of his earliest solo songs, Callinan cavorts in multiple costumes and drag ensembles. As far back as Mercy Arms, he was toying with assumptions, posing for press shots wearing dresses or baroque ruffled blouses. You can hear him on a Mercy Arms song called "Shine a Light," delivering a creepy monologue that includes the words, "Get your filthy hands away from my fucking pussy!"
But when femme and trans indie musicians are winning overdue respect and recognition, a Rrose Sélavy act can feel like an ugly joke. Some of Callinan's critics see the campy, gender-bending physicality of his performances and his taste for leather-daddy artifacts as swagger-jacking at best, blithe appropriation at worst. "I get some shit sometimes for apparently appropriating cultures, whether it be gay or queer culture, or, I don't know—no cowboys have had a problem," he says. "I come from a place of privilege, and I don't want to be, y'know, ostracizing, or making people feel victimized," he continues. "But I think I think the cultural appropriation argument is a really slippery slope. All arts and forms of expression are an appropriation of something else, y'know? … I don't know how many dicks I have to suck to wear a cowboy hat."
This side of Kirin J. Callinan—crude, misogynistic—isn't the real him, he insists. Recently, he auditioned for a role on New Zealand director Jane Campion's murder mystery drama series Top of the Lake. Producers recruited him to read for a minor role as "this sex-pest kind of character called the Fuck Wizard," he recalls. It went poorly. "I'm not the Fuck Wizard, it's not me. I think people get misconstrued, maybe that I'm like a pervert or something—and I put myself out there in that, of course, but it's not really the truth, I don't think." He wound up landing a bigger part on the show, as the brother of the main character, a police detective played by Elisabeth Moss.
***
The emotional climax of Bravado is a bouncy country/EDM crossover called "Big Enough," as in, "This town ain't big enough for the both of us." But in Callinan's writing, the cliché is reversed: "This town might just be big enough for all of us," Callinan and friend Alex Cameron sing in duet. Spliced betweens declarations of international and interreligious unity are musical whistling by Molly Lewis and a series of screams by Aussie rock 'n' roll legend Jimmy Barnes. In the song's video, Lewis whistles angelically as Barnes floats above the Old West, yelling over a massive synth breakdown.
"I'd never given a fuck about that music before in my life," Callinan says of his first experience making EDM, a genre he sums up as "aesthetically displeasing and pretty unexciting as an idea," but with "a euphoria that's just infectious." He tried listening to David Guetta and Calvin Harris, he says, but nothing brought on the euphoria like Swedish House Mafia. "I hear 'Don't You Worry Child' in a gas station or on the radio somewhere, it's like—I've cried to that song. I've earnestly just wept," he says. "That's what it's about, getting past your own fuckin' ideas about music or art or culture and realizing it's all just about the heart. Once you can overcome that, the world's a far more beautiful place without judgement."
If the reasoning behind Bravado's use of EDM was partly cynical—"Everyone's music, at some stage, it's emotional manipulation," Callinan says—"Big Enough" manages to be sincere anyway. There's something cathartic about the whistled hook, the wordless chorus, the way the soft synth tones explode to match Barnes's full-throated bellowing. The irony worked in isolation, too. In October, two months after the video release, YouTube meme-makers began dubbing the Lewis/Barnes clip over movie scenes. The screaming cowboy was a minor viral sensation. The original racked up more than two and a half million views.
Ultimately, Callinan says, he traces his musical inspirations to a cassette tape that became lodged in an old Volvo he drove as a teen. It had the Smiths' debut album on one side and the urbane, swaggering American jazz icon Cab Calloway on the other. If those are the two sides of Kirin J. Callinan, Bravado's title track is their truest expression to date. Even on this record, "Bravado" stands out. Callinan recorded the raspy vocals in rehearsal and, though he later tried to rewrite the lyrics, found he couldn't outdo that first take. It's groovy and guileless, "an honesty that sort of conflicted with the rest of the album," he says. "I quite like the idea of the title track being the last song. It's like an admission of everything that came before. It's like an apology. Y'know, I'm sorry, 'All this talking, it was only bravado.'"
He adds, sounding a bit sheepish: "I'd like to write more songs that are emotional and real and not full of so much fucking bullshit. But at the same time, it's the bullshit that makes it fun. No one's interested in listening to an acoustic singer-songwriter."