On a recent episode of the liberal comedy show Broad City, protagonist Ilana Wexler faces a very contemporary problem: She hasn't been able to orgasm since Donald Trump became president. Like many women, she at first assumes the problem is localized, and she curses at her vagina, feeling frustrated with the limitations of her own body. Then, through an admittedly heavy-handed series of breakthroughs, she realizes that the problem isn't her sexuality, but Trump's efforts to to define when it is and is not an appropriate expression of sexuality. The episode's message is one of personal rebellion: When confronted with those who try to shame, confuse, or silence our desires, we must pursue our own pleasure. Or, as Fever Ray puts it on her new album: "This country makes it hard to fuck."
Fever Ray's sophomore release, Plunge, sees Karin Dreijer at her boldest, unafraid to state exactly what is on her mind: sex. The last time we heard from Dreijer, on The Knife's farewell album Shaking the Habitual, she was imagining a rebellion of a more political nature: destroying the euro, corrupting the bloodline, and crossing borders real and imagined. During the promotional campaign for that album, The Knife released a cryptic letter stating their intent to explode power hierarchies and supposed ways of doing things. "No habits!" they exclaimed. Locked in a world of binaries and privilege and fracking and Monsanto, the duo felt restrained by the possibilities afforded to those that fall outside of the homogeneity: "Of course we're growing restless," they concluded.
That was 2013. Since then, global ideology has somehow become even more polarized, and sexuality has come to the forefront of political debate. Thank goodness that we have Dreijer to guide us. Similar to Habitual, Fever Ray released a wild statement on the eve of this album's release giving us a key into the pitch-shifted brain of the elusive artist. In the last few years, Dreijer explored her own sexuality, and is still sifting through the conclusions. "Do I confuse itch and ache?" she ponders. Throughout Plunge, Fever Ray wades through a history of sexuality, and relishes the ambiguity that occurs at its edges.
To Dreijer, sex is many things. It's vulgar and blunt: She coos "I want to ram my fingers up your pussy" on "To the Moon and Back," a confession that feels shocking and freeing. It's forbidden: She drags out the syllables as she admits "she makes me feel dirty again, that old feeling of shame" on "Falling," as if someone is standing over her shoulder, ready to police her feelings. It's impossibly intermingled with politics, in a paradigm that views bodies as a means to some capitalist, profit-maximizing end: "We're not attracted to this country's standards," she states on "This Country," disconnected from what passes for sexual norms. "This Country" is the most blatant effort at some kind of broader political message, with lyrics like "Free abortions! Clean water! Destroy nuclear!" It's also about being loveable, and what it means to be welcomed by others. "It's not hard to love me," she cries, her voice overdubbed with shriek-y, pitched-up vocals that suggest a chorus of voices crying out for acceptance.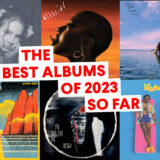 As much as this album is about sex, it is also about love. She longs for genuine connection on "An Itch," in a world where unwanted advances are much more common: "Imagine: touched by somebody who loves you." Beyond the manic beat of the drum machine, Dreijer just wants someone to call her own. Almost as if she knows that sex alone is not enough, she ends "Mama's Hand" with a meditation on romance: "This little thing called love, this missing thing called love, a little thing called love." Stripped from vocal modulation, her voice deep and somber, it is an unexpected moment of vulnerability from an artist that has built a career around hiding messages behind cryptic signals.  
Whereas Fever Ray's debut album had a more reserved, colder sound, like an undulating pan-flute humming in rhythm with the universe, the warm synths and wooden percussion on Plunge feel vibrant and more alive. There are crucial moments on the album where Dreijer slows things down a bit to let everything sink in. Even on the quieter moments, however, the mood of the album is deeply human: the slow, pulsing synths on "Mustn't Hurry" recall listening to a baby's heartbeat on an ultrasound. And as much as Plunge deals with sensuality, this isn't necessarily an album you'll want to put on to get in the mood. The kitschy, upbeat melody and computer-modulated vocals invite you to the dance floor, rather than the bedroom. If Dreijer is at the crossroads of sexuality, politics, and love, she's having a lot of fun figuring it all out.
https://open.spotify.com/embed/album/3UHMhYzYnfTBEuDxb1JmxC