The Joe Rogan Experience, the podcast hosted by the comedian and MMA commentator, is famous as a place where celebrities talk about their experiences with DMT or ayahuasca. But the most recent episode features an entirely different hallucinatory experience. The show's latest episode is a two-hour conversation with the enigmatic Smashing Pumpkins frontman Billy Corgan, who's ostensibly on to talk about his new Rick Rubin-produced solo album Ogilala. But the conversation veers into Corgan's experiences in pro wrestling, his fucked-up relationship with his father, and his ideas about music downloading and branding, among many other things.
But as Exclaim! points out, the wildest moment is probably when Corgan stands up for Nickelback, every music dork's favorite punching bag. Corgan calls Kroeger "an incredible songwriter." And on Nickelback, here's what he has to say:
I don't know enough about their world, but I don't think there's anything wrong if that's who you want to be. Pop is predicated on satisfying. I've said many times pop is porn. It's porn, they want to get you off. It's just how they're going to get you off. I'm not that concerned with getting you off. I'm just not.
You can hear the whole interview here.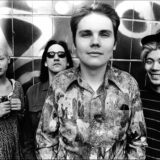 This article originally appeared in Stereogum.