Today saw the release of The Saga Continues, the latest album from the Wu-Tang Clan. Well, in name, at least. Here is RZA, who executive produced the album, explaining its genesis on Beats 1:
There was a young brother that was our deejay. He was working construction. I hired him to draw the Wu-Tang logo. His name was Allah Mathematics. And he always was in the shadows doing the knowledge..He learned how to make beats and produce and after a while—when I became a composer I became further and further away from the sound of Wu-Tang I mean I don't use the ASR-10  anymore…Mathematics stayed right there with it. So he was really given the task and he took the task upon himself to go and start having the members re-energize their verses to the classic Wu-Tang sound. After he got it to a certain degree, he was like, "I'm going to come over and show you where we're at." He showed me and I was like, "Yo, The Saga Continues."
But other than press releases saying that the album is "crafted by" DJ Mathematics, The Saga Continues carries the veneer of a Wu-Tang Clan release. The album artwork prominently displays "Wu-Tang" on the front, with the crew appearing as a war-ready unit in a comic-book style depiction. It's listed on streaming services under "The Wu-Tang Clan," next to albums like Enter the Wu-Tang Clan (36 Chambers) and The W.  DJ Mathematics has been producing Wu-branded efforts since the late '90s and has at least seven projects and compilations to his name, all of which feature his name on the front. For The Saga Continues, his name is nowhere on the cover. RZA and DJ Mathematics were not made available to comment.
The Saga Continues features contributions from every Wu-Tang member except GZA and U-God, the latter of which sued the group last November in a royalties dispute. But this project has not received wholehearted participation from the clique's other six members. Despite appearing on the album, Ghostface Killah, GZA, Cappadonna, and Method Man haven't acknowledged the album on social media, though the latter two are infrequent users. Masta Killa retweeted Mathematics' self-promoting Instagram post, while Inspectah Deck and Raekwon have offered their congratulations on separate posts. However, when contacted by SPIN, Raekwon did not want to speak on his involvement with the album; Method Man said through a publicist that he wasn't "involved enough to make a comment."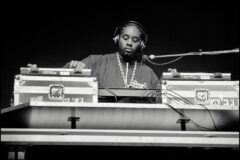 It's doubtful anyway that this crew could get it together for a full-fledged album after the acrimony that surrounded 2014's A Better Tomorrow. Meant to be what RZA called the crew's "great last album," A Better Tomorrow was extensively delayed by intra-group bickering. RZA notably blamed GZA, Raekwon, and Ghostface—three of the group's most acclaimed lyricists—for the constant pushbacks, while Rae returned fire through Rolling Stone. Instead of coming out in time for the 20th anniversary of their classic debut Enter the Wu-Tang (36 Chambers), A Better Tomorrow dropped to a tepid critical response and debuted at No. 29 on Billboard 200. The tensions didn't just start with that salvaged project, though: Ghostface Killah admitted that he "couldn't stand" their 2007 effort 8 Diagrams, which was marked by creative disagreements and a John Frusciante appearance. Then there's the much-fabled Once Upon a Time in Shaolin, which Martin Shkreli thought he had the world's only copy of. Of that whole incident, Method Man point blank said, "Fuck that album." These are examples of Wu-tensions coming to a head, though the friction dates back decades.
So, The Saga Continues arrives amid continued minimal confidence that the once-great group is still moving as a unit, though there is at least one Wu member who views the project with some optimism. In an interview with SPIN, Masta Killa effusively expressed support for DJ Mathematics and argued that The Saga Continues is a definitive Wu-Tang project, just like his own just-released solo album—Loyalty Is Royalty, which does include GZA. However, it's clear that Masta Killa is in the dark about some aspects of this album, for which he says he recorded his verses for at least two years ago. For one, it was apparently news to him that The Saga Continues was being released through RZA's vanity "lifestyle company" 36 Chambers ALC. "This is my first time hearing of that," he said.