The latest guest on WTF with Marc Maron is Marilyn Manson, who's been doing interviews to support his recently released album Heaven Upside Down. The hour-long talk covers everything from Manson's childhood beginnings at a Christian school to becoming a goth legend. Of course, Manson isn't tightlipped when it comes to speaking about other celebrities, so he naturally delivered spoke freely about known icons like Alice Cooper, David Lynch, David Bowie, and Trent Reznor
At around the 34-minute mark, he remembered being relieved that Cooper actually liked him even though his Christianity would idealistically be at odds with Manson's satanic imagery. Later, at the 38-minute mark, Manson jokingly recollected Bowie complimenting him on his tie ("He grabbed my tie and said, 'Oh, Hedi Slimane'") during their first time meeting.
The singer's lengthier stories were about Reznor and Lynch. At the 1:16:50 mark, Manson started to explain that the rift between him and the Nine Inch Nails frontman stemmed from a "misunderstanding" involving record labels (his band's first few albums were released on Reznor's Nothing Records). They made amends thanks in part to the HBO documentary The Defiant Ones, which follows Jimmy Iovine and the founding of Interscope.
"He said that he really liked the part that included us," Manson told Maron. "I won't deny in any way that he discovered and found what he wanted. He's the one who found me [and] signed me."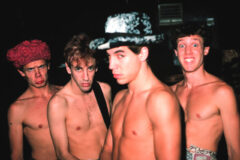 The podcast closes with Manson fondly talking about his experiences with Lynch. He remembered the director's curt persona while working with him on 1997's Lost Highway ("So why am I dying? 'Doesn't matter!'") and an attempt to get his voice on 2001's Mulholland Drive while he was busy touring ("I need it today! Can you do it over the phone?"). Listen to the podcast in full here.