Danish director Lars von Trier has denied harassing or abusing Icelandic singer Björk during the making of the film Dancer In The Dark (2000).
On Sunday, following the allegations of sexual misconduct against Harvey Weinstein, Björk shared a story of her own experiences with harassment in the film industry, claiming "a Danish director" had "humiliated" and "harassed" her during the making of a film. When she refused his advances, Björk wrote, the director "sulked and punished me and created for his team an impressive net of illusion where I was framed as the difficult one."
Björk did not mention Lars von Trier by name, but the singer has only appeared in a handful of films and only one — von Trier's Dancer In The Dark — was helmed by a Danish director.
In response, von Trier on Monday denied any allegations he had harassed or abused Björk, though he admitted the Dancer In The Dark shoot was fraught with conflict between him and his lead actress. The on-set dispute between the two has been widely reported. At one point, Björk walked off set, threatening never to return. Dancer In The Dark went on to win the Palme d'Or in Cannes for best film, with Björk taking the best actress prize. The songstress was also nominated for an Oscar for best original song for I've Seen It All, for which she composed the music and von Trier wrote the lyrics.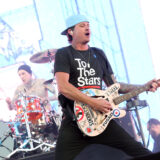 Von Trier made the denial to a Danish newspaper and his comments were confirmed to The Hollywood Reporter by the director's assistant. But von Trier, who has endured media storms for offhand comments in the past — including notoriously saying at a Cannes press conference that he had "sympathy for Hitler" — declined to make an official statement. He did, however, tell the newspaper that Björk's performance in Dancer In The Dark was "one of the greatest performances in my movies."
Peter Aalbaek Jensen, one of the producers on Dancer In The Dark and a partner with von Trier in their Zentropa production company, told the Jylannds Posten newspaper that he was surprised by Björk's accusations.
"As far as I remember, we were victims," Jensen told the paper, "that woman was stronger than both Lars von Trier and me and our company together."
Numerous other actresses who have worked with von Trier, including Nicole Kidman and Charlotte Gainsbourg, have praised the director and rejected claims that he was difficult or abusive.
In her note, Björk appeared to take credit for von Trier's behavior in the films following Dancer In The Dark. "[I]n my opinion he had a more fair and meaningful relationship with his actresses after my confrontation so there is hope," she wrote.
This article originally appeared on The Hollywood Reporter.