Eminem's long-running copyright dispute with a New Zealand political party has ended with a ruling in his favor. The song the conservative National Party used in a 2014 political advertisement illegally copied Eminem's "Lose Yourself," the country's high court has ruled, and the party must now pay the rapper's publishing company NZ$600,000 (approximately US$415,000) in damages. The ruling follows a trial that ended in May.
The 30-second political spot didn't use Eminem's recording of "Lose Yourself," but a so-called "sound-alike" track titled "Eminem Esque." That wasn't enough to escape copyright violation. "The differences between the two works are minimal; the close similarities and the indiscernible differences in drum beat, the 'melodic line' and the piano figures make 'Eminem Esque' strikingly similar to 'Lose Yourself,'" the high court ruled.
The amount of damages was based on the hypothetical licensing fee that Eminem's publishers, Eight Mile Style, might have charged the National Party for an authorized use of "Lose Yourself," the ruling stated. "The composition is regarded by Eight Mile Style as the most valuable work in their catalogue and has only rarely been licensed for use, and never as part of a political campaign," the court noted.
During the trial, a representative of the National Party said the party believed using "Eminem Esque" was acceptable because it purchased the copycat track from a commercial music library. National Party politician Steven Joyce once defended the use of the song as "pretty legal."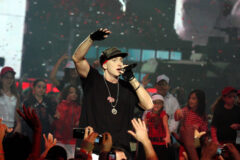 Eminem did not appear before the court, although his collaborator and co-writer Jeff Bass did. The trial also spawned a unique viral video moment, in which robe-clad attorneys solemnly played "Lose Yourself" to a silent courtroom. Hear "Eminem Esque" in the disputed National Party ad below.