Back in May, an artist who goes by the name WEHADNOIDEA posted an image of a digital, oil-pastel style portrait of the rapper XXXTentacion to Instagram. The comment section of the post is filled complimentary emojis and praise, including props from XXXTentacion himself. "THIS HARD," the rapper wrote. The artist (who asked that we not use his real name due to fear of online retribution) soon started chatting with X in hopes of working with him in some capacity, but that never materialized. Instead, their relationship turned sour after the rapper allegedly used the drawing on a piece of merch and then refused to compensate the artist.
A hoodie with artwork that, at worst, very closely resembled the portrait in question appeared on XXXTentacion's Instagram in early June, according to the source, before allegedly being sold on Revenge, a streetwear site that sells X's merch. The Instagram post hawking the hoodie has since been deleted (along with all but three of X's photos), but a screencap of it was provided to SPIN by the artist. As of press time, Revenge's website is password-protected, but WEHADNOIDEA says the hoodie was available for purchase on the site and sold out the same day it was released. Per the source, the below screenshot is evidence of the hoodie, in the top right corner, being resold.
A series of screencaps provided by the artist show DM conversations with both XXXTentacion and the Instagram account of Revenge. The artist's interactions with the rapper himself were initially cordial before turning acrimonious. At first, X appeared open to compensating the artist for the use of his portrait, with the source asking not for money but instead a continued working relationship.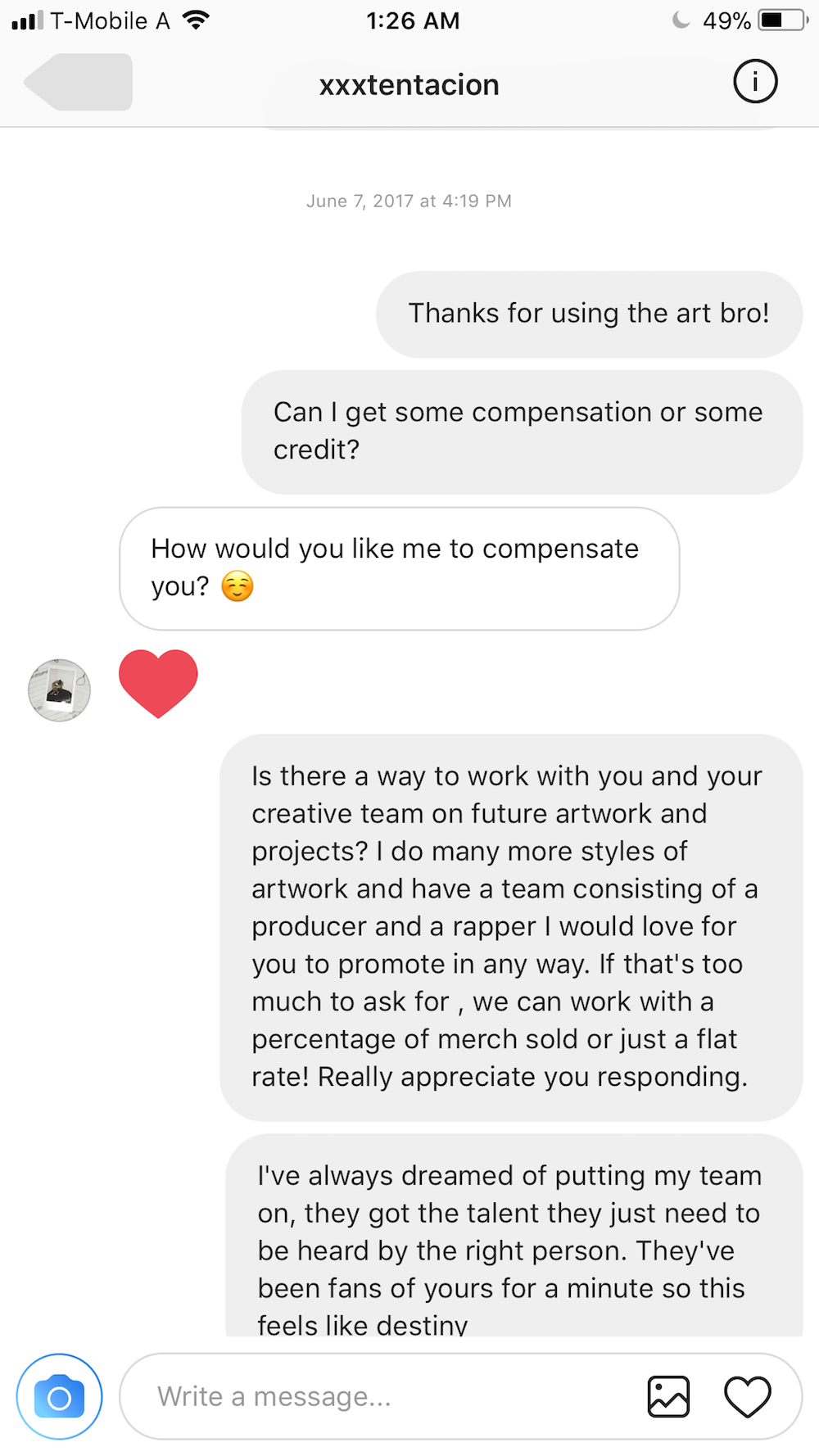 On June 16, the source began chatting with someone running the account for the Revenge store, who said that "Jah" (X was born Jahseh Onfroy) had told them that he had consented to the image being used.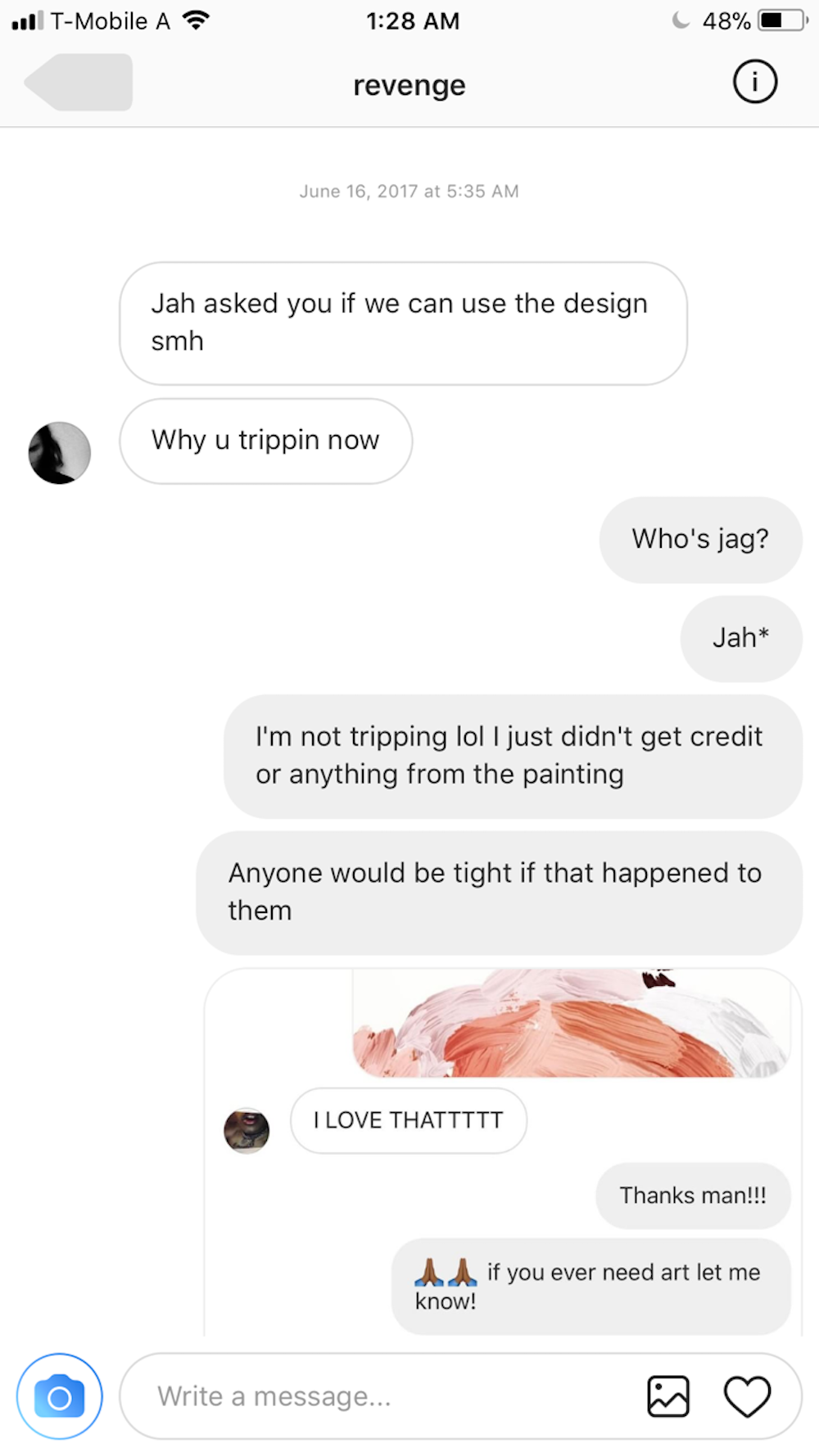 In the below screenshot, you can see the artist responding to XXXTentacion's Instagram stories with messages like "Same but you show no love" and "Hypocrite." The rapper eventually wrote back, telling the artist "dont every [sic] wonder why you won't get any help."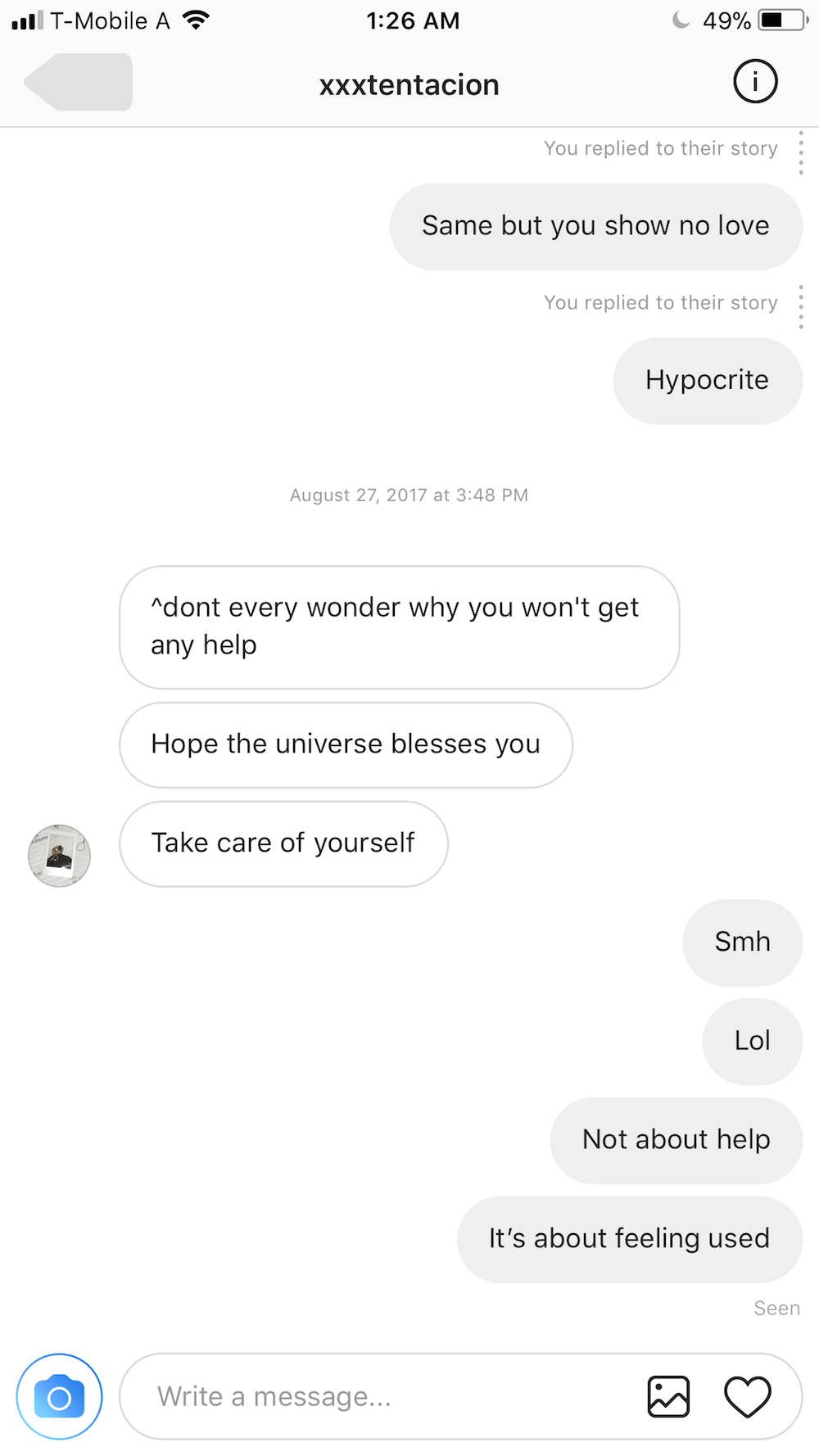 The artist says XXXTentacion has since blocked him on Instagram and that he's planning on taking legal action against the rapper. SPIN contacted X's team for comment, but a rep said he was unable to be reached over the weekend. It's unclear if the hoodie is still being sold, or will be in the future. X, who still has an open case for allegedly battering his pregnant ex-girlfriend, recently released his debut album 17.