Trent Reznor and Atticus Ross appeared on Chicago's 101WKQX last week to discuss their recent activity: the last two Nine Inch Nails EPs Not the Actual Events and ADD VIOLENCE, their new soundtrack for Ken Burns' The Vietnam War, and their performance on the recently-departed Twin Peaks: The Return.
Reznor described the process of becoming involved with David Lynch's series, clarifying that the director had called him up out of the blue and said "'write a song, and I'll see ya in a couple of weeks.'"
Reznor clarified that their first attempt at a composition didn't quite gel with what Lynch was looking for. "We wrote a different song initially, and [Lynch] said, 'How about something less Twin Peaks-y sounding, and more aggressive and ugly,'" Reznor said. Ross remembered Lynch's specific directive to the band: "'Make my hair stand on end.'" Ultimately, the group wrote and performed "She's Gone Away" for the series, which was also included on Not the Actual Events. The rejected song has not yet been identified.
"It was a complete honor to be involved. Lynch has always been a hero of mine," Reznor also said. Discussing Lynch's extreme secrecy about the series, Reznor said that he'd accidentally seen a brief spoiler when watching playback on the Nine Inch Nails footage, and that Lynch had responded "'Pretend you didn't see that."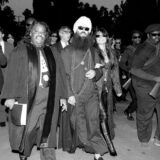 Previously, Reznor worked with Lynch on the score for 1997's Lost Highway. Lynch also directed the video for Nine Inch Nails' Hesitation Marks single "Came Back Haunted" in 2013.
Listen to a rip of the interview below (h/t Pitchfork):