Macklemore was never filmed carelessly uttering a racial slur, his career bonafides are stronger than "viral reality TV star," and he never recorded anything as annoying as Blue Slide Park, but he's nonetheless the worst thing a white rapper can be: uncool. He never was cool, except in the way that award shows approve of, but hit musicians don't always have to be—no one is lamer than Ed Sheeran, and he's sold more records than God. 2012's The Heist, Macklemore's breakthrough record with producer Ryan Lewis, spawned two No. 1 singles and another, "Same Love," that captured the cultural zeitgeist more than any pop single of 2013, with its widely resonant if somewhat mawkish support for same-sex marriage. The eye-rolls of our nation's cultural influencers didn't matter so much if his work made lots of money for someone, the music industry's one unassailable metric.
Macklemore saw all of this success, and decided to fuck it up. Instead of writing something like "Thrift Stop Pt. 2" to launch his follow-up record, This Unruly Mess I Made, he instead re-appeared with "White Privilege Pt. 2," a nine-minute WikiHow primer on the ways in which white supremacy still rules society, as well the ways in which he benefitted from it. ("You've exploited and stolen the music, the moment /  The magic, the passion, the fashion, you toy with / The culture was never yours to make better / You're Miley, you're Elvis, you're Iggy Azalea.") That "White Privilege Pt. 2" was well-intended, and even well-reasoned, could not be seriously disagreed with, but intent and reason are rarely the root qualities of compelling pop music. Macklemore's willingness to puncture his own image was an issue, too: Once a pop star has told you that they're not a big deal, and may even be part of the problem, then why should you pay attention? Worse—if he's saying you're part of the problem, as he seemed to be suggesting to his white fans, then why would you want to pay attention?
Well, it helps if you have some bangers or anthems, and This Unruly Mess I Made was conspicuously without: of two official singles, "Downtown" peaked at No. 12 and "Dance Off" (a bizarre collaboration with actor Idris Elba) didn't chart at all. The record sold basically nothing without any singles, but unlike many pop stars doomed to relegation, he remained an interesting person to think about. His success as a consciously woke white rapper, and his public attempts to grapple with that success, made him intriguing in an era when white artists often sidestep the issue of how they utilize black culture, and when all but the most successful black artists (Beyonce, Kanye West) are more or less asked to accept that as the cost of doing business. (It's faint praise, but Macklemore definitely didn't get enough credit for trying to untangle the salient issues.) Though four years passed between The Heist and This Unruly Mess I've Made, Macklemore has returned with a new record just a year and a half later, this time without Lewis.
Gemini is a fundamentally modest record that would have at least two potential hits ("Marmalade," a Lil Yachty-guesting song that works like a minor flip of his "Broccoli" hit with D.R.A.M.; and "Good Old Days," buoyed by an empathic Kesha performance) were Macklemore not so sapped of his commercial momentum. It's too long, and large parts of it are corny or forgettable, but in the context of Macklemore as a pop musician—and not a rapper—it doubles down on his strengths: well-crafted, sincere verses about his personal experiences combined with a better hook, usually provided by someone else. Even so, what's most intriguing about the record is what it lacks: any mention of race or specific social cause, as with his previous two records. This time, he's fully centered on himself, and his own attempts to understand the world through the perpetual struggle—a creatively neutered space that unfortunately makes him less interesting.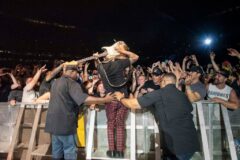 As a conscious rapper, Macklemore is an amateur philosophizer, starting with a broad question and expanding toward another series of questions. "Intentions," in which he raps over a somber, muted guitar riff, reveals his personal goals with their accompanying contradictions: "I wanna be faithful, but love hookin' up with randos / I wanna live by the law, but still think like a vandal" and on and on. Elegant, it's not—at one point he raps, "I wanna be a feminist, but I'm still watchin' porno"—but it is honest about its messiness. It presents Macklemore as he has commonly been since coming to fame: he may not understand life, but he's trying, and in his trying hopes you might empathize.
Musically, Gemini works best in this emotional space. "Good Old Days" is a basic paean for nostalgia , where the ascendent, twinkling production pushes his wistful realizations—"Wish I would've gotten out of my shell / Wish I put the bottle back on that shelf"—as Kesha does her soulful thing. "Glorious" is bread-and-butter empowerment rap, awash in religious humility over a stomping beat: "Another morning, a morning, don't let self get in my way / I got my breath, I got my faith and I remember why I came." (When the production lags, we get stuff like the plodding "Excavate," in which Macklemore mechanically lists his greatest achievements. It would work better as a blog post.)
Macklemore can rap, a skill developed over his decade as an underground rapper: He dexterously melds styles on the Offset feature "Willy Wonka," perfectly rides the joyful beat on "Marmalade," and even brings some righteous, slinky fury on "Firebreather." (The best line: "The same writers criticizing my rhymes / Are the same writers that are gentrifying Bed-Stuy"; even if a lot of his critics are not white Brooklyn hipsters, it's a great point.) But amidst the positives there aren't more than six or seven worthy songs, and this is a 16-track album. More often, he defaults to goofy, hookless party tracks ("Levitate," "How to Play the Flute"), forced concept songs ("Zara," "Corner Store"), and fodder that floats in between without particularly compelling.
The record will probably not sell a lot. It won't launch a hit similar to his previous ones, where he played earnest straight man for a good cause. The total absence of such a song—there's nothing like This Unruly Mess' "Kevin," where he railed against prescription drugs, and certainly nothing like "White Privilege Pt. 2″—suggests a type of weariness with his activism. Macklemore lucked his way into a platform, and chose to keep going with it. That he was rejected by the market reveals the industry's cruel calculus: Your intentions are only as good as your ability to make it on the radio. He's less talented (or at least more awkward) than rappers such as Kendrick Lamar, J. Cole, and Jay Z, who've incorporated social consciousness into their music without overwhelming the actual music. He's also less cool than Logic, the youthful, bi-racial rapper whose anti-suicide hit "1-800-273-8255" is worse than anything on The Heist.
It's also a subtle concession to his white fans, who were probably not ready to be bluntly confronted about their complicity in maintaining white supremacy. Despite the easy cracks about his basic ideology, Macklemore was always much savvier than his critics about the cultural gap between his listeners. If "Same Love" could convince some of his fans to support same sex marriage, then why couldn't "White Privilege Pt. 2" do something similar for race relations? Unfortunately, race is a much thornier issue in the era of Trump, one that can't be so easily solved by song and dance. Partially abandoned by a fanbase unwilling to engage genuinely with identity politics, Gemini has him retreating to safer territories.
To be fair, no one asked for Macklemore to be a white savior. The most frustrating thing about The Heist and This Unruly Mess I've Made, apart from the music, was that Macklemore proved an inconvenient truth: The country's progress was so stunted, despite our most liberal intentions, that a straight white rapper from Seattle somehow ended up as our most successful social advocate. Now, though, he's done with it. It might feel like a copout, but with fewer and fewer eyes on his work, there's nothing to keep him from being himself—a person who, if nothing else, knows the cost of trying to do a good thing, and is finally acknowledging that the hard work might be better left in someone else's hands.
https://open.spotify.com/embed/album/72qA6s4fjF8Y2VX1UDMfp2