If you're tired of living in America–where the leader of our government can't help but insert himself on the wrong side of arguments about political expression in sports, despite having many other things he should probably be worried about first–maybe a momentary immersion in the news of some other faraway land will help soothe your fatigue. Take Australia, for instance. What's former prime minister Tony Abbott got on the brain these days?
Footy fans shouldn't be subjected to a politicised grand final. Sport is sport! https://t.co/1uRh4eZ61Z

— Tony Abbott (@HonTonyAbbott) September 27, 2017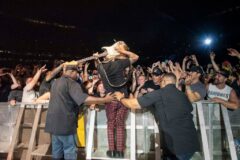 Ah, yes. Well then. The controversy that's currently rocking Australia has to do with the country's upcoming National Rugby League grand final, and it looks a lot like the stateside fracas over NFL players kneeling during the national anthem, but with an added infusion of Macklemore. The recently mellowed-out rapper is scheduled to perform the halftime show on October 1, the NRL's big night, and he's planning to play "Same Love," his signature hit advocating acceptance for gay people. Coincidentally (or not), Australians are in the middle of a national survey vote on legalizing gay marriage, prompted by current leader Malcolm Turnbull (himself a supporter of the idea).
Naturally, Aussie conservatives like Abbott are freaking out. And lately, they've focused their ire on Macklemore and the NRL, arguing that the "Same Love" performance will represent an incursion of politics into what they believe should be the safe space of sports. Here's a statement from the The Coalition for Marriage, an organization urging a "no" vote, via this helpful SB Nation explainer:
Australian sports fans just want to watch the footy without being force-fed LGBTIQ messages at the game. Sport is something that unites all Australians, so it is pretty bizarre that the NRL would choose to use its half-time entertainment to push a message which it knows millions of Australians disagree with.
NRL CEO Todd Greenburg, for his part, has issued a statement reiterating his support of the Macklemore booking, calling it "one of the bravest decisions we've made." Macklemore himself has promised to play the song, and to "go harder" in the face of the controversy. Who knows? Maybe the anthem will even change a few minds. A little mackling can go a long way.