Jay-Z's nephew Rel Carter regularly hosts the D'USSE Friday podcast alongside Hov's former protégé Memphis Bleek and Brian Axelrod. For the latest episode, the familial connection landed him Jay-Z's mother Gloria Carter, who was in the spotlight earlier this summer for coming out as a lesbian on 4:44's "Smile." She spoke about her initial reluctance about sharing herself on the track and the reaction.
"The first time he did the song, I was like, 'Nah, don't do that, I ain't feeling it.'" Gloria says. "I was sharing myself with [Jay-Z] not to share myself with the world. Then we talked about it, and I was going to see him. Then I was on the plane and was like, 'OK, I'mma help him.' So I wrote [the poem] on the plane.
Gloria also talked about the difficulties of being a lesbian during the conversation.
"I was never ashamed of me," Gloria says. "In my family, it was something that was never discussed…I'm tired of all the mystery. I'm gonna give it to 'em. I don't have to worry about anybody wondering if I'm in the life or not, I'm gonna tell them." Listen to the comments at the 25:40 mark below.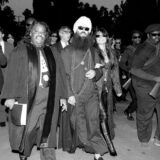 [h/t Vibe]