Before Billy McFarland became eternally infamous as the founder and promoter of Fyre Festival, the 25-year-old entrepreneur operated a company called Magnises. In exchange for a $250 annual fee, Magnises promised its subscribers discounts, party invites, and access to tickets for hot events like Hamilton and Beyoncé concerts. Like Fyre Fest, Magnises touted itself as a lifestyle choice for upwardly mobile millennials, giving them a "black card" that, in actuality, simply replicated the magnetic strip of a user's preexisting credit card, but offered the appearance of exclusivity. But like the ill-fated festival, Magnises was plagued by complaints of unfulfilled promises and last-minute cancellations. In recent weeks, SPIN has learned, McFarland twice attempted to unload his floundering business by listing it on a fledgling auction site called Flippa, which bills itself as "#1 for buying and selling online businesses."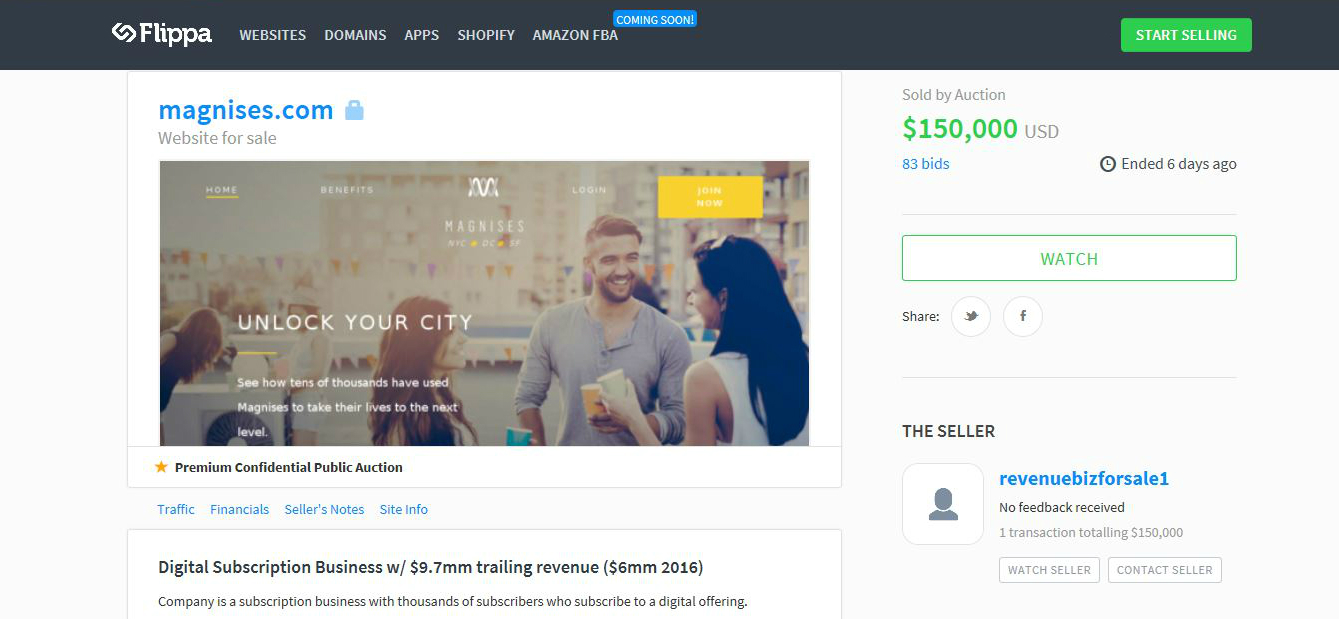 McFarland opted to use Flippa's private auction feature to hide the Magnises name and URL on the listing, which painted a vague but rosy picture of what was for sale. "Company is a subscription business with thousands of subscribers who subscribe to a digital offering," it read. Magnises claimed trailing revenue—a measure of a company's income over the past 12 months—of $9.7 million, and average net profit of more than $21,000 a month. In response to the question, "Why are you selling the business?," McFarland wrote, "Personal reasons have led to other pursuits and areas of focus."
The listing passed an initial verification process, a representative for Flippa told SPIN. However, such verifications are cursory, and may rely on information like screenshots of accounting statements or scanned tax returns. (The site requires bidders check a box indicating they've conducted their own due diligence.) Flippa says it usually highlights high-value auctions as an "editor's choice," but aware of past allegations against McFarland's companies, it declined to do so for Magnises.
The auction closed with a $150,000 winning bid, but eventually fell through, said the winning bidder, who reached out to SPIN several weeks ago. Flippa said its records indicate that buyer and seller mutually agreed to cancel the sale. The potential buyer had hoped to revive Magnises, he said, but had second thoughts after learning about more about McFarland.
In public, McFarland has claimed Magnises had as many as 100,000 subscribers. But in private correspondence with the would-be buyer, reviewed by SPIN, McFarland—under the username "revenuebizforsale1″—said Magnises had 4,000 "active paying" customers, and just 40,000 total in its history. "We paused subscriptions in June and July and I decided to sell the business due to personal issues," he wrote. "There are thousands of subscription customers that are up for renewal, and I would recommend they be renewed immediately once the business is sold." Conversing with the potential buyer, McFarland intimated that the remaining subscriptions could be automatically renewed for $250 each.
It's not clear how much of Magnises remained left to sell. In late August, Bloomberg reported that many of the company's executives and employees had left. In mid-September, Magnises' website vanished. Its official social media channels fell silent months ago. McFarland himself is currently facing a wire fraud charge stemming from the Fyre Festival fallout. Repeated attempts to reach him by email and phone were unsuccessful.
Several days after the first Magnises sale failed, McFarland re-listed the company on Flippa with a starting bid of $1. The auction was pulled and McFarland's account was suspended after an internal review by Flippa determined that Magnises.com was no longer an active website. The stated reason for removal, according to Flippa's internal report, read in part, "A Google search shows the business has been shut down amid accusations of fraud."