Chromatics' Johnny Jewel gave a rare interview to Consequence of Sound to promote the soundtrack for Twin Peaks: The Return, in which the band appeared playing at The Roadhouse. Jewel also backed Julee Cruise in a performance in the penultimate episode of the show and contributed incidental music to the score. He has one track on the new original-soundtrack instrumental album–a version of "Windswept" from his recent solo album–and the Chromatics have another instrumental track, but Jewel clarified that he'd written a full 20 hours of music for the show.
"I felt compelled to keep recording music and a series of improvisations. I think I sent them about five to seven hours of stuff…I tried to keep it judicious. I knew the show was 18 hours, so I figured, well, five to seven hours of music isn't a big deal."
He spoke about his involvement with Lynch and Twin Peaks reverently, discussing the ways in which working with Lynch had inspired and facilitated their recent music videos–they wear Peaks owl rings in the "Shadow" video, for instance–and the band's rapt viewing parties for the series.
"I first saw Twin Peaks when I was 15, so it's gotta be in my DNA somewhere," he said.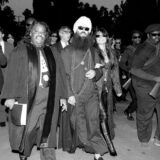 He mentioned another  definitive moments from the series he had gotten to witness on-set: the "Audrey's Dance" scene, in which the jazz band used Jewel's Rhodes piano ("I was behind David when they were filming," he said).
Now that Peaks is over, he says getting Chromatics' long-delayed album Dear Tommy to the masses is his highest priority, claiming that it is "100%" coming out: "It's the 1% priority." Jewel explained that "there's the thing about releasing records late in the year, and we're right on the heels of Christmastime, so I want the vinyl to be simultaneous this time, which has never happened [for us]….personally, for me, I still think of everything in four sides. And the vinyl is very, very important. And I made a promise to myself for this album …that the vinyl needs to be simultaneous with the digital release, so that's going to slow things down."
Watch Chromatics on Twin Peaks below.
CORRECTION: A previous version of this post misstated Chromatics' upcoming album as Dear Johnny, not Dear Tommy.