Björk has released a video for "the gate," the debut single from her upcoming album Utopia. It's a collaboration with Andrew Thomas Huang, the artist and filmmaker who also directed videos for Björk's Biophilia album and the VR clips for Vulnicura, and Alessandro Michele, creative director at Gucci.
The elaborate, special-effects-heavy video following in a long tradition of amazing, lavish Björk videos. It features the singer playing a flute in an otherworldly meadow, surrounding with uncanny ambient sounds, before transitioning into a highly abstract realization of "the gate," as mentioned in the lyrics.
A little more than two minutes in, the magnitude of Gucci's collaboration will become clear, when Björk reappears. You can take a virtual tour of the dress Alessandro Michele designed for the video via Gucci's Instagram here, which apparently took "550 hours to make, and an additional 320 hours for the embroidery."
Of the video, Huang said in a statement: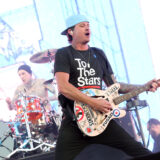 The Gate picks up where 2015's Vulnicura left off. It is the first glimpse into Björk's utopia. The doorway lies within the wound from Vulnicura, which now appears transformed into a prismatic portal channeled between the chests of two lovers. Not lovers in the quotidian romantic sense, but in a broader cosmological way. As a throughway into Bjork's new album, The Gate is a declaration of hope sung by a woman refracted and re-formed into a luminous whole.

I am especially proud of this film as I feel it is a culmination of my five-year collaboration with Björk and James Merry. It's been such a nourishing three-way relationship and this film is the perfect synthesis of our brains and our hearts. Having Alessandro Michele's design as the centerpiece in this film is a dream.

I want to give a special shout-out to my visual effects partners Wolf & Crow, who have pulled off an exceptional feat for this visually packed video. Building a world like this takes a village and I feel blessed to be in this company of artists.
Watch the video for "the gate" below, and read our track review here.