William Patrick Corgan, nee Billy Corgan, will release a new solo album, Ogilala, next month. He's already let loose the single "Aeronaut," and detailed how working with Rick Rubin kept the songs austere. But in a new interview with Rolling Stone, Corgan revealed that Smashing Pumpkins guitarist James Iha worked with him on a couple tracks. Iha appears on album cut "The Processional," as well as an as-yet unnamed bonus track. Corgan told interviewer Andy Greene:
"I sent him some [songs] and said to him, 'I feel like this is right up your alley' as far as the kind of music he likes to work on. […] He picked out two songs, though one will likely be a B side."
Iha and Corgan became estranged after their 2000 Smashing Pumpkins record, Machina II/The Friends & Enemies of Modern Music, though they did perform together last year. That performance was only missing original Smashing Pumpkins member D'arcy Wretzky. But in the RS interview, Corgan reveals he's also reconciled with the bassist. The whole exchange plays into rumors Smashing Pumpkins may reunite at some point soon (not to mention Corgan's performance of more and more Pumpkins songs live).
Corgan also revealed that his new album's opening track, "Zowie," is a tribute to the late David Bowie. He told the magazine: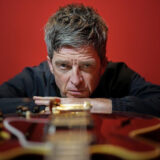 "It was written around the time that David had passed and I was thinking about him a lot […] I was lucky that I got to work with him a little bit. I was really struck by his passing. You almost have to take a step back and be like, 'OK, that's the end of a journey. What does it mean? How do we evaluate this artist now that there's no more?' It sort of closes the circle."
Corgan begins a tour of the new material next month in Brooklyn that continues through November. Ogilala comes out October 13 on BMG. It's accompanied by a Corgan-produced short film, titled Pillbox. Watch the trailer for that and hear the first single below.