Alvvays almost seemed too good to be true. The band's origins on the islands of far eastern Canada were so innocent, their location at the midpoint between Orange Juice and Rocketship so improbable. Bandleader Molly Rankin's relation to Canada's much-celebrated Rankin Family folk dynasty explained her penchant for songwriting, but didn't account for her mastery of the winsome, plaintive methods of indie pop. Alvvays had the C86-inspired style pinned, right down to their bleak sense of humor and fondness for the 1960s. Their signature song was "Archie, Marry Me," with its poignant, arcing hook and quaint object of desire. They were so good, so sweet and well-defined and unobjectionable, one wondered whether they could possibly keep it up.
Perhaps that's why some of their fanbase latched on so tightly: fear that, like any number of small upstart pop bands, even quasi-famous ones, they might soon disappear. Instead Alvvays toured heavily on the strength of their self-titled 2014 debut, and three years later, they've returned with their sophomore release, Antisocialites. The new record's origin story is humble and precious as can be: Picture Rankin listening to Cocteau Twins alone on the beach, withdrawing to what a press release called an "abandoned classroom" to lay down demos. (In reality, it was a studio at Toronto's Artscape Gibraltar Point residency space, housed in a former school.)
The creative fantasy serves to fog up an album that's fundamentally modest, even as it stretches to be both looser and more technically ambitious. Alvvays recorded with producer John Congleton, while Teenage Fanclub's Norman Blake added guitar to highlights "In Undertow" and "Lollipop (Ode to Jim)." Rankin's singing voice feels more comfortable, less nasal and more Amelia Fletcher. Guitarist Alec O'Hanley's self-taught audio mixing is mostly effective, though unfortunately he's packed "Not My Baby" inside a coffee can. "Archie" fans will be pleased to find they've nearly done it again with "Dreams Tonite," a sparkling melody paired with Morrisey-esque melancholy: "Hanging over me / Like a rosary / So morose for me."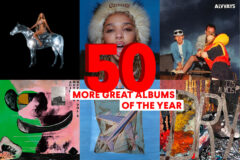 Much of Antisocialites plays like a breakup record, not that their debut was terribly lovesick—there's no unconditionally happy Alvvays song. But its whimsy comes off more convincing than its sentimentality. "Plimsoll Punks" pays tribute to cheap tennies and Television Personalities' "Part-Time Punks," though it sadly lacks the critical bite of the original. "Lollipop" is a delirious acid fantasy centered on the Jesus and Mary Chain's Jim Reid, and in their miniaturized homage to the Chain, Alvvays reveal the heights they could attain if they were willing to be a little more shambolic. There's no single moment as dangerous as the metallic skid that hits just as Rankin recalls riding in a swerving car.
It's probably a good thing Alvvays waited three years before releasing a second album, because it is easy to have too much of this kind of music. It's not a matter of whether it will age well; it practically has already. On Antisocialties, Alvvays prove they are most comfortable being overcautious, meaning they risk repeating already familiar tricks. They're far tighter and more practiced than a band like Television Personalities ever were, but it's easy to feel like they're not firing on all cylinders. Even the album's greatest departure, the carnivalesque second half of closer "Forget About Life," feels like an elaboration of the slow vintage synths from the final song on Alvvays, "Red Planet." Antisocialites is a recipe for the true believers, which means it leaves a lot on the table.