Vince Staples is one of today's finest working rappers as well as one of the genre's sharpest thinkers, so it was predictably entertaining to watch him work his way through increasingly tortuous sauces on Complex's Hot Ones. The Big Fish Theory rapper only tripped up twice during the challenge: He was taken aback by the nastiness of one sauce, and he delivered a poor take on God's establishment, Chipotle. Here's the exchange, which occurs at the 9:25 mark:
Host Sean Evans: Does Chipotle qualify as Mexican food in your opinion?

Staples: No. Chipotle is gentrification and they're killing people.
The former half of the statement is correct—I've yet to see a Chipotle in the hood—but the later is a gross misrepresentation of the chain's non-GMO propriety. There's been a lot of fuss made over last July's norovirus scare and 2015's E. Coli outbreak. However, the incidents are mere crucibles for testing character and fortitude. If you're worried about E. Coli, you're not actually hungry for burritos.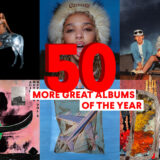 Stop worrying about minor things like potential gastrointestinal issues and look at the bigger picture, folks. Watch the full Hot Ones episode below.
https://youtube.com/watch?v=4n_x6ZlXg38%3Fecver%3D1