Earlier this year, Philadelphia emo band Modern Baseball canceled a European tour and announced a hiatus, citing mental health reasons. "The project we started as a source of joy and positive expression had become something that was slowly eating away at our mental health and our friendships," co-frontman Jake Ewald wrote at the time.
Yesterday, MoBo announced they'll break that hiatus long enough to play play three hometown shows this fall: October 13, 14, and 15 at Philadelphia's Union Transfer. "These are the last mobo shows for the foreseeable future," co-frontman Brendan Lukens wrote on Twitter. "Gonna finally take our much needed break after this Friday the 13th weekend." More bands will be added to the bill later, Lukens added.
During Modern Baseball's hiatus, Ewald is pursuing his Slaughter Beach, Dog project, while Lukens is playing some acoustic shows. Modern Baseball will join Daniel Johnston in Philadelphia on his upcoming final tour.
Tickets for Modern Baseball's upcoming Philadelphia shows are available here. [BrooklynVegan]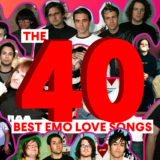 These are the last mobo shows for the foreseeable future. Gonna finally take our much needed break after this Friday the 13th weekend 💗👽💗 pic.twitter.com/13gOxK15N7

— Bren Lukens 👽 (@brenbrennnn) August 21, 2017