Ian Smith had been working for several weeks to book Rae Sremmurd at the famed Austin nightclub and BBQ joint Stubb's when he received a strange document in his inbox. It was the supposed contract rider for the white-hot Mississippi rap duo, whose "Black Beatles" was the most popular single in the country at the time, in late 2016. Such documents are commonplace in the live music industry, and usually include things like requirements for the artist's travel and accommodations, and a detailed list of audio equipment, with specific brand names, to be provided by the venue. They can contain all sorts of other things too: a leaked Katy Perry rider from 2011 demanded an arrangement of "White and purple hydrangeas, pink & white roses and peonies," and "ABSOLUTELY NO CARNATIONS."
"I've seen a shitload of riders," Smith said. But this one looked wrong. "I was expecting certain types of mics, DJ gear. And it just said, 'We need three mics,' nothing else. It was really bizarre."
Smith, an independent entertainment industry consultant and event promoter based in Austin, had booked Rae Sremmurd to play a series of dates in March and April via an Atlanta company called Global Talent Agency. The company, which bills itself as a "a cornerstone in the booking entertainment industry since 2008," claims access to a roster of artists that reads like a who's who of hip-hop: 2 Chainz, Kendrick Lamar, Future, A$AP Rocky, and so on. Another section of the company's roster, labeled "hosts," is devoted primarily to reality television stars past and present: the Kardashian-Jenner clan, Tila Tequila, Snooki, The Situation, Jwoww.
Smith was experienced in his field. His company, BTS Events, had booked successful shows in the past with the likes of Lil Jon, Rick Ross, and Busta Rhymes–all of whom appear on Global Talent Agency's roster, incidentally–and had recently begun throwing concerts abroad, in places like Mexico and Lebanon. But he hadn't worked with Global Talent Agency to book those artists. Before working with with the company on the Rae Sremmurd shows, he wasn't familiar with the company at all.
He'd been introduced to Global Talent Agency via Omar Guzman, a Los Angeles-based promoter and occasional business partner he had enlisted to help him book the shows. According to Guzman, the agency caught his attention because their listed price for a Rae Sremmurd show–$20,000–was "lower than everyone else's." According to industry sources, the group was commanding around $20,000 per show several years prior, but had bumped its fee into the six figures after the success of "Black Beatles." (At the time of this writing, Global Talent Agency is also the first Google result for the phrase "Rae Sremmurd booking.") Guzman passed the information to Smith.
The pair spent much of November and December communicating with Global, sending paperwork back and forth, hammering down specifics. The company, which Smith said seemed like it was run by "two people hanging out in their house with a cell phone," raised several red flags. After Smith voiced his concerns about the rider, he received a second, ostensibly more complete version, but this one was even stranger than the first: it was written in Comic Sans. At one point, Smith and Guzman had a telephone conversation with a man who presented himself as Rae Sremmurd's manager, but whom they now believe was an actor or Global employee. Representatives of the company were occasionally demanding about money. "Management is not considering anymore extensions Omar," reads a message sent to Guzman from a generic Global email address on December 1. "I have pulled a lot of strings this time for you."
The discounted rate was appealing, however, and was enough for Smith and Guzman to brush off their reservations and move forward with the show.
"My gut feeling was this is too good to be true," Smith said.
***
Every time a major artist plays a show, a number of parties work together to make it happen. There's the artist themselves, of course, and the venue that hosts them. There's also a booking agent, who works on behalf of the artist to facilitate performances, and a promoter, who puts together and advertises shows for the venue. (When a show gets booked, it's usually because a booking agent and a promoter have entered into a sort of partnership.) Depending on the size of the venue and whether it's independently owned or part of a larger conglomerate, it might have a promoter working in-house, or it might contract another company to do its promotion. Some venues use one promoter for all their shows, while others hire promoters on a piecemeal, show-by-show-basis. Still others employ some combination of these two approaches.
In the rap booking world, things are complicated further. Young artists can skyrocket to stardom on the strength of one successful single, and may employ personal friends and associates to represent them before they graduate to a major talent agency. The distinctions between booking agent, promoter, and just plain hustler can become muddled. Let's say a venue in Philadelphia contracts a promoter to book 21 Savage, and that promoter subcontracts another promoter who has a better list of contacts in the rapper's home state of Georgia. The second promoter subcontracts a third, who has a personal relationship with someone in 21 Savage's circle, and so on, until the chain reaches his official booking agent, or occasionally bypasses the agent entirely. Everyone along the line gets paid something. "Some rappers will tell anybody, 'Get me some money,'" said Matt Sonzala, a veteran of the Texas hip-hop scene, who booked South by Southwest's rap shows for about a decade in the '00s. "They may actually be represented by William Morris, but they're letting some dumbass in Kentucky book shows for them."
Global Talent Agency exists somewhere in this nebulous middle zone. The company gained minor notoriety recently when Emory University was forced to cancel a Migos concert that it had booked through Global. Last month, Emory's student newspaper the Wheel reported that the university had lost $37,500 to the company in the process, and that the campus police department had opened a criminal investigation into the matter. (An Emory spokesperson confirmed to SPIN that the investigation is still open.) "Emory scammed by group posing as Migos bookers," read the headline of a subsequent Atlanta Journal-Constitution article, which included a statement from a representative of the rappers: "It's never acceptable for people to try to get over on others. We do not condone this type of behavior."
Smith and Guzman first contacted Global months before the Emory saga unfolded. In addition to the Stubb's show, they had also arranged for them to assist in booking Rae Sremmurd for two other concerts: one at a campus of the University of Louisiana system, and another to be presented in Austin by the University of Texas chapter of the fraternity Sigma Alpha Mu. A contract provided to SPIN shows an agreement between Global and Guzman on a total rate of $40,000 for both Austin shows, with half to be paid to Global in advance. Smith says that he paid the company the $20,000, and a roughly $10,000 deposit on the University of Louisiana show, before he came to believe he was the victim of a fraud. None of the shows ever happened, and according to Smith, Global has reimbursed him only $2,500 of the nearly $30,000 he gave them over half a year ago.
These people are preying on a specific part of the population, and I would argue they're preying on people who can afford it the least.
In the byzantine arrangements that characterize hip-hop booking, it's relatively easy for impostors to thrive, in part because so many actual managers and artists look like regular people, without a brand-name imprimatur. "I have not personally been a victim, but it's rampant," said Kozza Babumba, a musician who was the director of marketing and publicity at the hip-hop-centric New York City club SOB's between 2008 and 2012. "It happens a lot, and It's been going on in the industry for a long time. A promoter comes to a venue and says 'I can get you Cardi B and Rick Ross.' If you're not careful, and you just book them and give them a deposit, you might be putting your money in the wrong place."
SPIN reached out to several publicists and label representatives who together represent about a dozen of the artists mentioned on Global Talent Agency's website, all of whom told us that their clients have no actual business relationship with the company. However, some of these professionals said they were aware of the existence of companies like Global, and were not surprised to learn that their clients appeared on Global's roster. Sonzala quipped that a Google search would show "50 agencies" with similarly puffed-up rosters and no affiliation with the artists they advertise. While researching Global after his business relationship with the company went south, Smith discovered a company called National Artist Agency that boasts a client list that's exactly the same as Global's, right down to the inclusion of Aries Spears and Godfrey as featured comedians. These armies of middlemen are accepted reluctantly as part of doing business. The trouble comes when they take a client's money with no intention of ever giving it to the artist or putting together a show.
Such schemes, according to Babumba, are especially dangerous for independent concert promoters and venues attempting to break into an industry that's dominated by conglomerates like Live Nation and AEG. "These people are preying on a specific part of the population, and I would argue they're preying on people who can afford it the least," he said. "A club that's a little more established could theoretically bounce back from someone jerking them out of a couple thousand dollars. An independent promoter or venue owner who's putting all their eggs in this Rick Ross basket, trying to compete in this very difficult landscape, might not be able to."
After SPIN published a news item about the Emory booking, I spoke with a source who at first believed he had also done business with Global, but actually had a similar experience with an entirely different company–an indication that the business model may in fact be as pervasive as Sonzala and Babumba allege it to be. In that case, an established independent concert promoter based in New York attempted to book Migos in January, for a show in March at a new venue in Queens called the Knockdown Center. According to a financial document provided to SPIN by the source, the promoter paid a $20,000 deposit for the show to a booking agency that has no formal relationship with the Atlanta rappers. The show never materialized, though several pages promoting the cancelled concert are still available on events sites like Thrillcall and Bandsintown. The $20,000 was never refunded, the source said.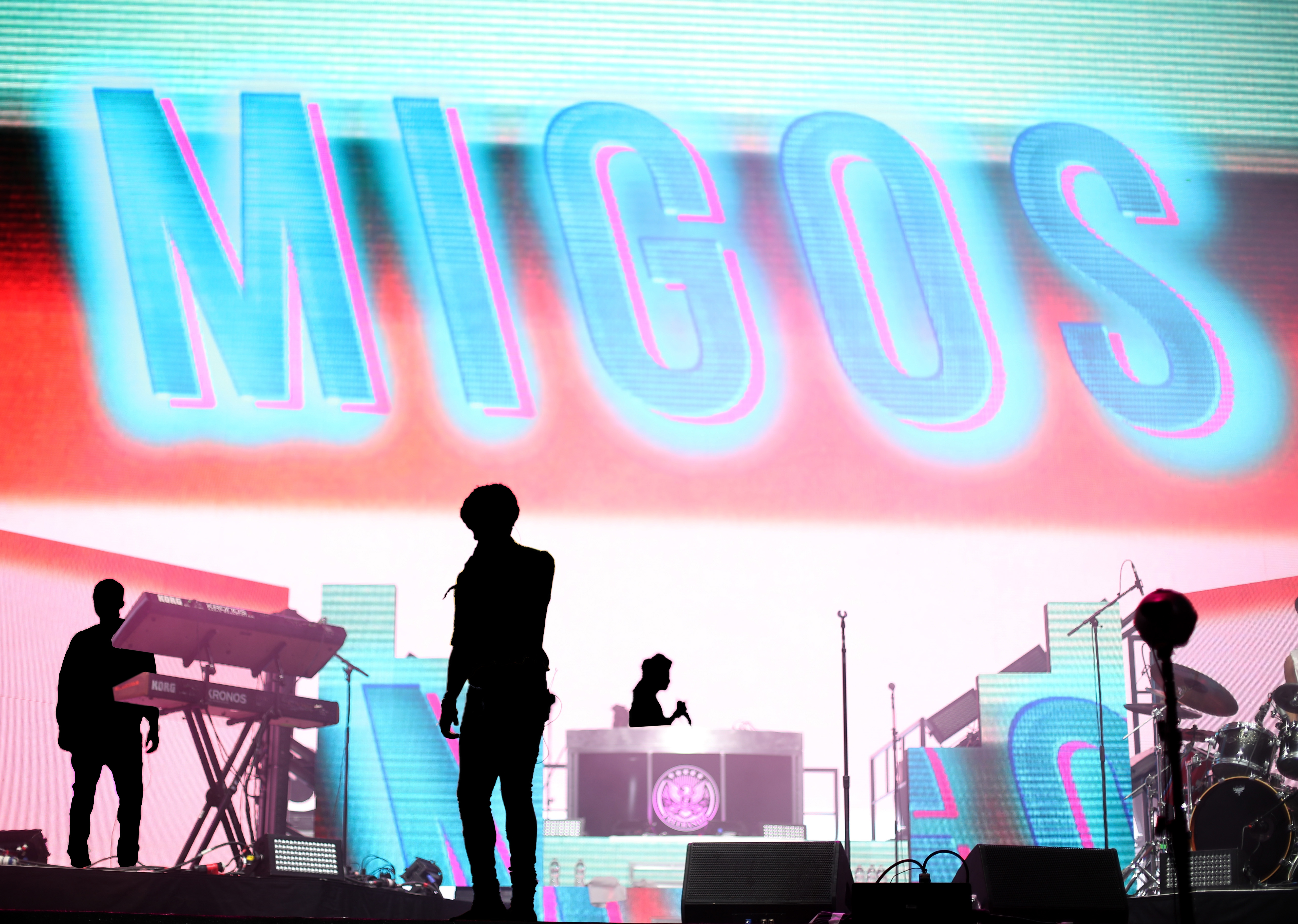 The Rae Sremmurd show at Stubb's was scheduled for March 25, and Smith finalized the details with Global Talent Agency and began promoting it online in January. Soon after, he received a voice message from a representative of ICM Partners, the talent agency that actually represents Rae Sremmurd. The representative told him that the booking was fraudulent. Rae Sremmurd had no knowledge of any Stubb's show, the representative said, and were in fact booked to give a private performance in Illinois on the same night.
Most Stubb's shows are produced by C3 Presents, a major concert promoter based in Austin, but the venue occasionally allows independent promoters like Smith to lease its space. (SPIN hosted an annual SXSW showcase at Stubb's for many years.) Stubb's general manager Ryan Garrett said that the venue had considered hosting the Rae Sremmurd show, but pulled out before any tickets were sold, or any formal agreement reached with Smith. "These happen. you get these emails saying, 'Hey, we want to promote a concert.' We'll scratch the surface, see if it's viable, and in this case it wasn't," he said. Stubb's events director Jennifer Sydney added that the show was canceled because "there was speculation that it was a scam."
A Global Talent Agency representative, whose identity SPIN could not verify, said that the company has been operating for about six years, doing what he described as "middle-party booking." The middleman arrangement on the Rae Sremmurd shows was especially complex: Smith, who first intended to book the group, used his company BTS Events to enlist Guzman, who then connected BTS Events with Global. According to the Global representative, Global then contracted yet another company called Premiere Talent Agency to deliver Rae Sremmurd, and it was Premiere who failed to hold its end of the bargain. The notion that Global had scammed Smith or Emory University out of money, the representative said, is "absolutely false."
It's possible that Global Talent Agency is guilty of nothing more than hiring an incompetent subcontractor. But the evidence suggests an alternative explanation. The contract for the Austin shows reviewed by SPIN lays out a straightforward agreement between Global and Guzman for furnishing the services of Rae Sremmurd, without mention of Premiere Talent or any other third party. When pressed for contact information for Premiere, or any information at all about the company other than its name, the Global representative declined to give it. Smith said that he heard "nothing whatsoever" about a company called Premiere Talent during his initial dealings with Global.
Publicly available records regarding a thicket of corporations connected to Global and Premiere suggest that the two companies share more than a casual business relationship. The Austin contract instructs Smith and Guzman to deposit money in a bank account held by "Blueprint Group – Client Exchange Ca," an Atlanta-based LLC registered in 2016. Blueprint Group shares the address listed on Global's website, and lists a man named Octaveon Woods as its CEO. Woods is also listed in public records as president of "Global Talent Agency, Inc.," a corporation registered in Illinois in 2012 and dissolved shortly after the formation of Blueprint Group. Another publicly available listing regarding Global Talent Agency, Inc. includes on its list of employees a man named Reginald Turner. And Turner is listed in public records as registered agent of a since-dissolved Illinois company called "Premiere Talent Agency Incorporated." This apparent association has led Smith to believe that Premiere is a sort of shell company, controlled by Global, that allows the latter agency to transfer the blame when its bookings go awry.
Minutes after my initial phone conversation with the Global representative, he surreptitiously arranged a conference call between himself, Smith, and me, in an attempt to dissuade SPIN from publishing a story about his company. The call ended with the representative demanding Smith to tell me that his issue with Global had been resolved. Sounding baffled, Smith responded that Global still owed him more than $25,000. Later, the Global representative told me that if I published an embarrassing story about the agency, "there's a lawsuit coming your way." I asked him if he was threatening to sue me, and he told me he wasn't; instead, he said ominously, he was simply passing along what the "representatives who are behind the assets" had told him. When I asked him whether Global had also used Premiere to book the Migos show at Emory, he hung up on me.
CORRECTION (5/23/19): A previous version of this story misidentified the representative of Global Talent Agency that spoke with SPIN, based on false information provided by the representative. The story has been corrected accordingly.
***
Smith believes that Global never intended to put the Rae Sremmurd shows together at all. Though he insists that he is the victim, in a darkly ironic twist, he fears that his status as the person who brought the failed Rae Sremmurd show to Stubb's in the first place has given him the air of a shady dealer. The hip-hop booking industry, with its chains of middlemen, makes it difficult to assign blame when a show hits the rocks. "Not only did they steal my money, they destroyed my relationships with all these clients," he said. "And those relationships took a long time to build."
To hear Matt Sonzala tell it, the problem of fraudulent bookings is even especially damaging to the business and culture of hip-hop–even more so than it would be in a genre like country or rock. For years, promoters refused to book rappers out of misplaced fear that the music would bring violence into their clubs. Things are different now, in the era of Coachella headliner Kendrick Lamar, but not entirely so. The possibility that a scammer might steal your five-figure deposit is just another reason to book an EDM DJ instead.
"I'm from the days when it was really hard for hip-hop artists to tour," Sonzala said. "When I was booking for South by Southwest, I literally had people at venues say the n-word to me. 'I'm not having that black shit.'"
This is not even close to an isolated incident. It happens in every city, all the time.
"J. Cole touring arenas—generations of artists didn't do that," he continued. "And the ones that did were in Chitlin' Circuit venues that nobody's ever heard of. UGK—nobody outside their community ever saw them until just before Pimp C died. Eighty percent of hip-hop history in the live music realm has been nothing been setbacks. It's so great what's happening with hip-hop on the road now, and we need to respect that. Big venues, like House of Blues, aren't going to put up with this shit for too long. The more this stuff happens, the further we get set back. We don't need this scam shit now. We need more people to take a stand and do it legit."
About a decade ago, while working as the overseas booking agent for Devin the Dude, Sonzala received word from a contact in Vancouver that a local promoter was heavily advertising an upcoming show by the cult-favorite Houston rapper. Neither Devin nor Sonzala had previously heard anything about the concert. Sonzala made some calls, and learned that the promoter had paid a significant amount of money to an individual who falsely represented himself as Devin's booking agent. It was a week before the show was scheduled to take place, and the supposed agent had made no apparent effort to contact Devin. The Vancouver promoter–a newcomer to the industry, based 2,500 miles away from Houston, with no reliable contacts in the city–had been scammed.
Sonzala and Devin were angry, but they decided to travel to Canada to do the show anyway. They were wary of leaving fans feeling like their favorite rapper had canceled on them in the last minute, and in light of hip-hop's fraught history with the live concert industry, they wanted to avoid giving local venues an excuse not to book Devin next time he came to town. "This is not even close to an isolated incident," Sonzala said. "It happens in every city, all the time. Getting ripped off is almost a part of your learning process in this game."
If you've had a similar experience while booking a show, or have any other story you'd like to share, feel free to email this reporter at [email protected].