Yesterday, Bjork gave word of an imminent new record through a short statement on her Instagram, saying the as-yet untitled album would be "coming out very soon." Today, the Icelandic art-pop icon graces the cover of Dazed, along with a new interview regarding the record beside gorgeous photos by Jesse Kanda.
In the story, written by Selim Bulut, Bjork opens up about finding love, saying of the album, "This is like my Tinder record." She goes on to say that the record is "about being in love. Spending time with a person you enjoy on every level is obviously utopia. I mean, it's real. It's when the dream becomes real."
Since her last record, 2015's Vulnicura, Bjork says she's been rebuilding, following her divorce from artist Matthew Barney. "I set myself up with the last album being a heartbreak album," she said, "so everyone's gonna be like, 'Are you married?' with this one. But… it's too fragile still. I think, if I could, I'd just say this is my dating album. Let's just leave it there."
She also reveals how the rise of right-wing populism helped shape the record: "Maybe that's why it became a utopian theme — if we're gonna survive not only my personal drama but also the sort of situation the world is in today, we've got to come up with a new plan," she said. "If we don't have the dream, we're just not gonna change. Especially now, this kind of dream is an emergency."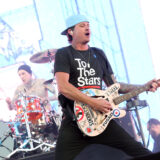 Bjork also goes deeper into her relationship with Arca, who co-produced the record, calling their collaboration "the strongest musical relationship I've had." She likens the working relationship to that of Joni Mitchell and Jaco Pastorius during Hejira and Don Juan's Reckless Daughter. "You can tell they're doing the tango," she says. "It's that synergy when two people lose their ego."
A few song titles from the new album are revealed in the piece, including "Allow," "Loss," "Features Creatures," and "The Gate." It's revealed that visual artist Thomas Andrew Huang, who directed three Vulnicura videos, has already shot a video for "The Gate."
Other details on the record are scarce.