The newest batch of music by RZA, spiritual guru behind the Wu-Tang Clan, comes not through a new album or movie soundtrack, but a corporate partnership: Today, the producer announced SAVOR.WAVS, a collaborative website made with Chipotle. The occasionally-norovirus-tainted food chain has previously looked to modern musicians to boost its brand—they got Jim James and Brittany Howard to cover the Backstreet Boys for an ad, after getting shot down by Father John Misty. Now, they've made a site for RZA with a doozy of a premise: You build a burrito (or a burrito bowl, or tacos, or whatever your preference is), with your chosen ingredients. As your item comes together, RZA-created music elements representing the different foods filter into a mix—some Spanish guitar for sofritas, some dank bass lines for black beans, some hard-nosed rock percussion for the soft-shell tacos.
Then, when your food is built the way you want it, and all the music is perfectly mixed into some swaggeringly original creative work, you get sent to a visualizer where your mix plays through. You can hit buttons to shoot forth shapes of color representing jalapenos, chips, tabasco, and lime. At the end, Chipotle texts you a code for a buy-one-get-one-free deal, while supplies last. The whole thing is found here.
The press release for this thing is a trip. "I've always believed food, like music, has the power to change our day and even shape our world," RZA said. "SAVOR.WAVS continues to challenge us in how we think about food, what's real and what's responsible." Mark Crumpacker, the chief marketing and development officer at Chipotle, also offered an extremely honest and true statement: "SAVOR.WAVS supports our commitment to using only real ingredients in our food — without any colors, flavors or industrial additives. As a parallel to the way we cook, RZA used only natural instruments, and composed them such that each unique combination works beautifully together."
All of the 51 music stems are available at the official Chipotle SoundCloud. Below, enjoy "Corn Masa Flour.wav," a nice little sample.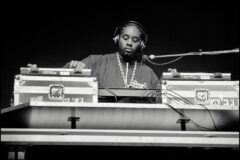 Please also watch this goofy-ass video of RZA mixing some Chipotle ingredients, and then enjoying a tasty Chipotle burrito.
I mean… whatever. Obviously this is a giant ad, and Chipotle aren't the sappy force for good they so desperately brand themselves as, and the RZA should release a statement revealing exactly how much they paid him, but I can't lie that it was fun to mess with this thing for ten minutes, as well as revel in the deep absurdity of it all. Also, you get a burrito for playing along. In the end, we're all slaves to free food.