In the continued saga unfolding around a July 19 Radiohead show in Tel Aviv, Israel, Roger Waters piled on his criticism of Thom Yorke and crew. Radiohead has faced criticisms from many in the music community, for a perceived support of Israel, while many others are actively eschewing the nation.
In a Facebook Live interview with the Boycott, Diversions, and Sanctions Movement, Waters spoke about his involvement with his cultural embargo of Israel, due to the country's ongoing occupation of Palestine. Yorke addressed the controversy on Twitter just a few days ago, saying the band doesn't endorse Netanyahu anymore than they endorse Trump.
But Waters–who signed an open letter to Radiohead on the subject, along with Thurston Moore, Tunde Adebimpe, and others–spoke to a pro-Palestine organization about his attempts to connect with Yorke on the subject.
"Well Thom, you shouldn't feel insulted because if you did know what's going on, you would have a conversation with Ken Loach, who's been begging you to have a conversation, or with me, I begged you, Thom."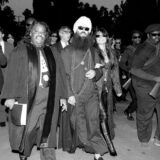 Rogers went on to say that Yorke had ignored emails from himself and Brian Eno.
"I sent you a number of emails, begging you to have a conversation. As did Brian Eno. You ignored us all. You won't speak to anyone about anything. So it's that kind of isolationism that is extremely unhelpful to everybody."
Waters, who is currently touring the US behind his new record, Is This The Life We Really Want? has faced a bit of backlash among his own crowds, for anti-Trump messages shown during his show.