Rick Rubin's Twitter account in a perfect distillation of his public persona. He's got 45,000 followers, an avatar photo of his famous beard bathed in harsh light and shadow, and just a single public dispatch: a tweet from 2014 reading "Microphone check, one, two." Rubin is a man of few words, and those are exactly the right ones for conveying his vibes as a hip-hop zen guru to the world.
So it's pretty funny that Rubin momentarily broke his long Twitter silence over the weekend, not with an original thought of his own, but to signal boost a post by Dilbert creator Scott Adams, one of the most uncool dudes on the planet. Besides charmless office humor, Adams is known for his stubbornly idiotic and reactionary politics. As summed up nicely in a post at the Outline labeling Adams the "worst blogger" on the internet, over the last several years, he's dabbled in petty misogyny, Trump support, and the idea that gently critiquing police officers is tantamount to inciting a race war–all in the overeager and snobbish argumentative style of the grade schooler whose hand shot up first after every single one of the teacher's questions.
https://twitter.com/jkriss/status/884228222837075968
The particular Adams post that Rubin retweeted is a Periscope video offering rhetorical analysis about Trump's recent meeting with Vladimir Putin at the G20 summit in Germany. Rubin isn't exactly outspoken about his own politics, so it's tough to know whether his Adams RT should be taken as an endorsement, a refutation, or something else.  Looking at Rubin's feed, it seems like he follows the "gotta hear both sides" school of media consumption: in addition to Adams, he also follows noted Trumpist goons like Mike Cernovich and Bill Mitchell, but also noted left-of-center voices like Ta-Nehisi Coates, Gloria Steinem, and Bill McKibben.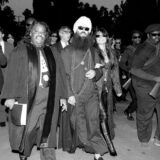 Whatever Rubin's motivation, he's since deleted the retweet. Maybe he's just got an itchy Twitter finger.