For weeks now, Radiohead's scheduled July 19 concert in Tel Aviv, Israel has been a cultural flashpoint for pro-Palestinian activists. The advocacy group Artists for Palestine UK published an open letter urging the band to boycott Israel, and the ensuing debate pitted Michael Stipe (pro-performance) against Roger Waters and Brian Eno (pro-boycott). Even the usually reticent Thom Yorke published a statement defending his band's decision to perform: "Playing in a country isn't the same as endorsing its government…. We don't endorse Netanyahu any more than Trump, but we still play in America."
As you'll notice, today is July 19, and Radiohead indeed performed in Tel Aviv's Yarkon Park. Per Reddit's Radiohead watchers, the Tel Aviv concert was their longest since 2006, with a total of 27 songs over the main set and two encores. Yorke remarked, "A lot of stuff was said about this, but in the end, we play some music." Check out some footage from the show and the full set list, as reported by fans, below.
Update (10 a.m. July 20): Here's one additional video of "Karma Police" and Yorke's "A lot of stuff was said about this" comment.
https://youtube.com/watch?v=E8uIfnm9TCc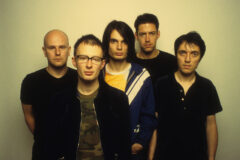 Radiohead in Tel Aviv https://t.co/wgE7WVgYPR

— Adam Ben Gan (@AdamBenGan) July 19, 2017
Radiohead set list, July 19, Tel Aviv, Israel
1. "Daydreaming"
2. "Lucky"
3. "Ful Stop"
4. "Airbag"
5. "15 Step"
6. "Myxomatosis"
7. "All I Need"
8. "Pyramid Song"
9. "Everything In Its Right Place"
10. "Let Down"
11. "Bloom"
12. "Identikit"
13. "Weird Fishes"
14. "The Numbers"
15. "2 + 2 = 5"
16. "Bodysnatchers"
17. "Idioteque"
Encore 1
18. "No Surprises"
19. "Nude"
20. "Like Spinning Plates"
21. "Lotus Flower"
22. "Paranoid Android"
23. "Reckoner"
Encore 2
24. "Creep"
25. "The Bends"
26. "There, There"
27. "Karma Police"