Last night's conclusive music sequence on the new Twin Peaks came from Rebekah del Rio, the Los Angeles singer who most famously collaborated with David Lynch in the Club Silencio scene from 2001's Mulholland Drive. Wearing a dress loosely patterned after the iconic floor detailing in the Black Lodge, Del Rio sang a new song co-written with Lynch, "No Stars." It recalled the Lynch co-penned songs sung by Julee Cruise, back in the original Twin Peaks series.
If you looked closely at the shadowy stage right of the Roadhouse stage, you would have noticed the scene's true surprise: an appearance by Moby as del Rio's guitar player. Moby–bespectacled, greying–mimed his way through some dreamy, Lynch-core arpeggios as del Rio crooned for a full six-plus minutes.
No one should really be surprised that Moby was in the mix for a Twin Peaks episode, however: He's been a close associate of Lynch's for nearly a decade. Lynch directed a music video for Moby, and Moby directed a music video for his approved retooling of one of Lynch's own original songs. Moby has also been a public supporter of the David Lynch Foundation supporting Transcendental Meditation education, and one time, the two even jammed on camera. (Also, don't forget that Moby had an early club hit in 1990 with a techno track sampling "Laura Palmer's Theme.")
You can watch Moby perform with del Rio (and, for fun, a hilarious interview between Moby and David Lynch about the nature of creativity) below.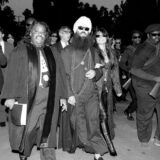 https://youtube.com/watch?v=dPLH8dMagGQ