An upcoming sale from the NYC auction house Gotta Have Rock and Roll features a CD containing an album's worth of previously unheard Michael Jackson songs, Rolling Stone reports. According to the auction house, the disc comes from a "personal friend and personal assistant to Michael whose family was very close to Michael for many years, travelling all over the world with him." The purchase comes with an intriguing stipulation: while the buyer will own the physical CD, they won't own the rights to the music inside, meaning they won't be legally allowed to distribute it. Barring an eventual decision to release the songs from the Jackson estate or whomever does own the rights, it looks like we have another Once Upon a Time in Shaolin situation on our hands.
The 12-track CD contains three songs that were released in alternate version on the 2010 posthumous album Michael–"Monster," "Breaking News" and "Keep Your Head Up"–and nine songs that have never been heard publicly. According to Gotta Have Rock and Roll, the songs are finished, and of "master quality." A photo from the auction house shows a blank CD-R with the word "Bible" written on it in marker.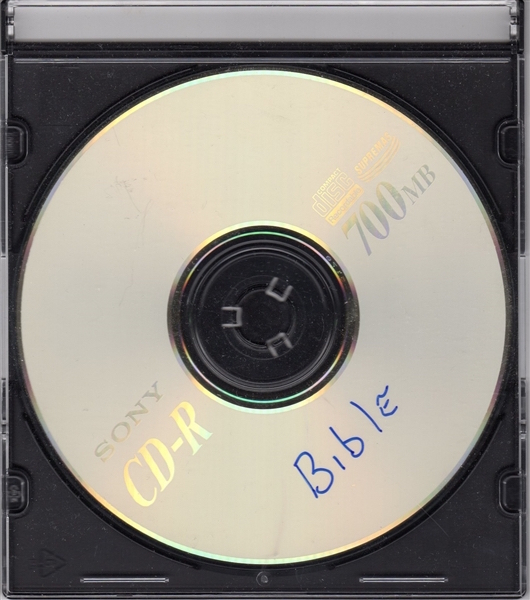 The starting bid for the "Bible" CD is $50,000, but the auction's organizers have said they expect bidding to reach as high as $1 million. In response to an inquiry from Rolling Stone about the identity of the person who provided the CD to Gotta Have Rock and Roll, a representative of the auction house said the seller wished to remain anonymous.
Bidding begins on July 19. Nobody tell Martin Shkreli.
UPDATE (7/13): Per Rolling Stone, the album has been removed from the public auction, but is still being sold. "Due to an overwhelming response, interest and media attention, all parties involved in the sale of the Michael Jackson unreleased album wish to keep the integrity of Michael Jackson's legacy by removing it from public auction," a representative of the auction house told the magazine. "Private inquires only at Gottahaverockandroll.com. Those interested in purchasing can still listen to the album by appointment."
See the "Bible Tracklist" below.
1. "Monster"
2. "Breaking News"
3. "Stay"
4. "Keep Your Head Up"
5. "Everything's Just Fine"
6. "Black Widow"
7. "Burn Tonight"
8. "All I Need"
9. "Water"
10. "Let Me Fall in Love"
11. "Ready to Win"
12. "Soldier Boy"