Summer lovin': It's supposed to happen so fast. "Summer Bummer," Lana Del Rey's new song with A$AP Rocky and Playboi Carti, stops it dead in its tracks.
True to the ethos of the artist who came up on "Summertime Sadness," "Bummer" unfurls at a glacial pace—or rather, the pace glaciers used to have. The song opens with atmospheric piano, as Del Rey moans a few lines about how "it's never too late." She's daring her lover to leave, maybe, or just hinting at the existential dread of every earlier sunset. A background murmur builds, peppered with Carti's ad-libs—he doesn't get one full line in the whole song, just background "yeps" and "whats" that could've just as easily been sampled from something else. Producer Boi-1da's beat kicks in, dry and scratchy, as if he were playing everything with a wire brush. The air feels close. "Wrap you up in my… daisy… chains," Lana speak-sings. "Hip hop in the summer / Don't be a bummer, babe."
With Rocky's first line, the song momentarily snaps into focus. His verse shoulders the bulk of the storytelling, such as it is. "I might fuck with her all summer for real," he admits, slipping into an approximation of Lana's own woozy, whispered flow. So nebulous is the relationship between these two protagonists that it might, in the end, all turn out to be a hallucination born of heat exhaustion.
Even as it widens—slightly—the range of her catalog, "Summer Bummer" is best viewed as a classically Lana Del Rey set piece: a heavily stylized soundtrack for drugs, pools, and high-contrast monochromes. "White lies"—or maybe that's, ahem, "white lines"—"and black beaches / And blood red sangrias," she sings later, mirroring a color scheme that dates back to "Off to the Races." Sonically, "Bummer" is like a trap-inspired take on Honeymoon's "High by the Beach," and thematically, it doesn't go anywhere that song didn't already.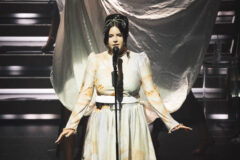 The best defense of "Summer Bummer" is that it is not "Groupie Love," the second A$AP Rocky feature from Del Rey's new album Lust for Life, released simultaneously today. "Groupie Love" relegates Rocky to a pop song's standard third verse rap feature, where any supposed romantic chemistry falls flat. Del Rey's choruses are almost lush enough to sell a vision of vintage backstage hedonism, but she winds up tripping over the clichés she idolizes. "Time after time, writing my lines / Having my baby there next to me" could never hope to compete with, "Got my bad baby by my heavenly side." The very first lines—"You're in the bar / Playing guitar"—should have been struck as soon as they were written.
Let us, at last, take one moment to acknowledge that the "Summer Bummer" single artwork (photographed by Neil Krug) is absolutely killer.