Nowadays, you're most likely to come across (young) rap nerds endlessly ranking and re-ranking albums by Kanye West or Drake. But a more interesting discussion centers around the ordering of the sprawling discography of one of the men who paved the way for them: Jay-Z. The rapper who began his career as a witty corner hustler is now just about the greatest capitalist success in the genre's history. The 13 albums he's released during that period reflect this growth in real-time, leaving behind a group of indelible but often flawed records that are equally exciting and bewildering to pick through. Jay has a few unimpeachable classics, and you'll find them at—or near–the top of our list. Most interesting, though, are the ones that, depending on your perspective, also get there, very nearly do, or perhaps even miss altogether. This is our ranking of Jay's 13 solo studio albums, in which we take stock of one of the absolute best to ever do it.
13. Kingdom Come (2006)
Jay-Z's comeback from his essentially nonexistent retirement was heralded with a video in which professional race car drivers Danica Patrick and Dale Earnhardt Jr. careen through Monaco—footage which would quickly be repurposed into an advertisement for Budweiser. The song it accompanied—Jay's "comeback" single "Show Me What You Got"—is a not-unlikable Just Blaze reconfiguration of an obviously much better Public Enemy song, but Lil Wayne freestyled over the beat at the height of his powers, crossing Jay up like Iverson did MJ. It might be quicker just to talk about the parts of Kingdom Come that were actually good.
There is most obviously "Minority Report," which addresses Hurricane Katrina. It's not the best track to listen to on a purely aesthetic basis, with Jay rapping in a stilted flow over a plodding piano beat. But the song stands out for both its incisiveness and its honesty. In contextualizing Katrina within America's long, shameful history of disenfranchising its black citizens, Jay defends looting—an act of the defenseless that even most reasonable liberals condemn. He also examines his own response to the event, rapping, "Sure, I ponied up a mil' but I didn't give my time / So in reality, I didn't give a dime / Or a damn, I just put money in the hands / Of the same people that left my people stranded." It remains one of his most interesting bits of rapping ever, and you can draw a direct line from it to his recent interest in producing media explicitly about race and the criminal justice system—from his short film for the New York Times to documentaries about Kalief Browder and Trayvon Martin.
The rest of Kingdom Come, regrettably, is rap music fit for a cocktail party aboard a yacht bobbing peacefully in the Adriatic Sea. The back-to-back songs featuring Pharrell and Usher and then Beyoncé are pure Baz Luhrmann rap, and even Dr. Dre's solo production here—"30 Something"—feels like it's going out of its way not to disturb you. The album's gold-plated tackiness is only redeemed on "Do U Wanna Ride," a song dedicated to Jay's then-incarcerated childhood friend Emory Jones, in which finds Jay traces his life story from the projects to St. Tropez, grounding the album's richness somewhere that is more relatable.
Kingdom Comes ends with the quasi-infamous "Beach Chair," produced by and featuring Chris Martin, who croons a chorus that goes, "I hear my angels sing / Life is a dream and you really don't wanna wake up, wake up." It seems prescient that the album acknowledges that you may already be long asleep. — Jordan Sargent
12. Magna Carta Holy Grail (2013)
Magna Carta Holy Grail runs for a full minute and a half before we hear Jay Z's voice: it's all portentous piano, distorted little snippets of speech, and a crooning Justin Timberlake. When Jigga finally enters, it's with quick choppy bars about men who've been swallowed up by fame, and then he's gone again, replaced by JT singing an interpolation of the hook to "Smells Like Teen Spirit." It's a fitting introduction to an album from a guy who seemed a little unsure himself about what to do with his status as one of the biggest stars in the world.
Fortunately for everyone, Jay's path isn't nearly as dark as that of Mike Tyson or Kurt Cobain, both who come up in that opening verse: rather than resorting to violence against himself or others, he's simply throwing his resources at whatever musical whim comes to him and then seeing what sticks. That approach yields a few solid songs: "BBC" is a summery and organic slice of funk a la "Hola Hovito," with the added bonus of a Nas guest appearance; "Fuckwithmeyouknowigotit" is a sticky street single, thanks in large part to Rick Ross. But the album lacks a coherent vision. For better or worse, its most memorable moments come when Jay dips his toes into the zeitgeist and comes away baffled and bemused: "I don't pop molly, I rock Tom Ford" is an all-time groaner, but "Somewhere in America, Miley Cyrus is still twerking" is a great line in spite of itself. — Andy Cush
11. The Blueprint 3 (2009)
On the night of his induction into the Songwriters Hall of Fame, Jay-Z went on a tweet spree thanking the rappers who inspired him over his career. But he didn't merely just pay deference to the standard hip-hop pantheon–Playboi Carti, Quavo, Young Thug, Future, and Travis Scott were thrown in the same list as Rakim, Ghostface Killah, and Big L. Listen to "D.O.A. (Death of Autotune)," the lead single from Blueprint 3, and you'll realize Jay-Z has changed a bit. With that song, he aimed to issue a corrective in the form of a mission statement. "This ain't for sing-a-longs" and his "raps don't have melodies," he told us, plus he wasn't here for tight jeans. Jay-Z explained that "D.O.A." was a challenge against the era's conventions rather than an outright diss, but those targets were by-and-large the makeup of current rap. That song dates the album because "D.O.A." represents BP3's central conflict: Where does Jay-Z fit in a strange new land governed by Drake?
The Blueprint 3 is an essential chapter by default because "Empire State of Mind" became Jay's first No. 1 single, and "On to the Next One" was both a sleek example of Swizz Beatz's genius and a needed reminder that latter-day Jay-Z can put out a hit single that was actually enjoyable. But the album's claim to canon more or less ends there. Because this is a modern-age Jay-Z album, a number of his commercial successors roll through as features, and they all amount to a montage of dropped baton handoffs, missed mountaintop high-fives, and botched alley-oops. "Off That" finds Jay trying to catapult a then-upcoming Drake with political platitudes and duds like,"I'm so tomorrow the Audemar says yesterday / Which means you on time delay." Eight years later, it's a footnote in both of their careers.
Elsewhere, BP3, like its predecessor in the series, is a pop-rap album for an artist who didn't need one: Jay-Z's so sureshot of a star that pop naturally bended in his direction (he once rapped "I ain't crossover I brought the suburbs to the hood"). Because he's well within the zeitgeist, it's hard to get a sense of what exactly he's grasping for in this set of uncharacteristically misguided half-steps. "Venus Vs. Mars" sounds like someone tweeting through a number of bad opposites attract jokes, while the J. Cole-starring "A Star Is Born" is a hip-hop circle of life anthem that feels extremely rote, especially when compared to a later effort like A Tribe Called Quest's "Dis Generation." The album's producers are middling as well: Kanye West is still stadium level on "Run This Town," but "Hate" is an extreme drop off from 2001. And Timbaland just could not stop striking out here.
The whole affair does ultimately amount to a first for Jay-Z. He's had misses before, but The Blueprint 3 was the moment it felt that the culture finally divorced itself from Hov, mainly because Jay sounds so distracted by things like skinny jeans that he loses the effortless cool that was his essence. It's fitting that this is the first solo album where he's not on the cover. — Brian Josephs
10. The Blueprint 2: The Gift & The Curse (2002)
The extent to which The Blueprint 2: The Gift & The Curse mirrors the consistent bloat of Hollywood sequels feels almost meta in retrospect, though we can safely assume that at the time Jay-Z was simply enamored of the power of his own excess. Or maybe it was everyone around him—in his personal album ranking, Jay's note about the follow-up to one of his consensus classics seems to place the blame on his A&Rs: "Too many songs. Fucking Guru and Hip Hop, ha." No matter who was at fault, The Blueprint 2 is an album of bad ideas and slovenly rapping largely unworthy of the legacy it claims.
There is still some good stuff here, of course. "Poppin' Tags"—a butter-smooth Kanye West production that elicits eloquent brags from Twista, Killer Mike, Big Boi, and Jay himself—would be an easy inclusion in any mix of classic Jay album cuts. M.O.P.'s remix of The Blueprint's "U Don't Know" speaks for itself. There is also a point in the middle of disc two where the album finally locks into a groove, stacking up chopped-up soul beats from Just Blaze and Kanye, which feels like Jay acknowledging that he had ascended to a place in his career where he could easily serve up comfort food. Still, this comes an hour into a double album that noticeably sags under its own weight.
Five months after the release of The Blueprint 2, Def Jam would put out a compilation album titled The Blueprint 2.1 that consolidated the record onto one disc. You can squint hard and see a listenable album there, with Jay dropping songs like the ill-fated Sean Paul collaboration "What They Gonna Do," the Frank Sinatra-interpolation "I Did It My Way," and "Fuck All Nite," one of those lounge-funk Neptunes productions that now sounds really watery (plus, Pharrell croons "U Don't Have to Call" for whatever reason). Still, the garish Lenny Kravtiz screamer "Guns & Roses" made the cut, as did the Biggie tribute "A Dream," which reproduces the entire first verse of "Juicy." Despite the sheer number of songs, there wasn't a lot to work with here.
Looking back, what's most notable about The Blueprint 2 is how Jay more or less immediately repeated the formula on the The Black Album but instead made one of the most lauded albums of his career. That album shares some of this one's worst impulses—chintzy Pharrell champagne flute clinkers, Timbaland beats that kinda sound like broken amusement park rides, ill-fitting pop interpolations—but was ultimately made with a purpose that imbued its rapping with a certain vitality. That vitality, of course, came from Jay's impending retirement, which he quickly reneged on, revealing that it was just a hustle all along. The Blueprint 2, then, is a reminder that even legendary hustlers get lazy. — JS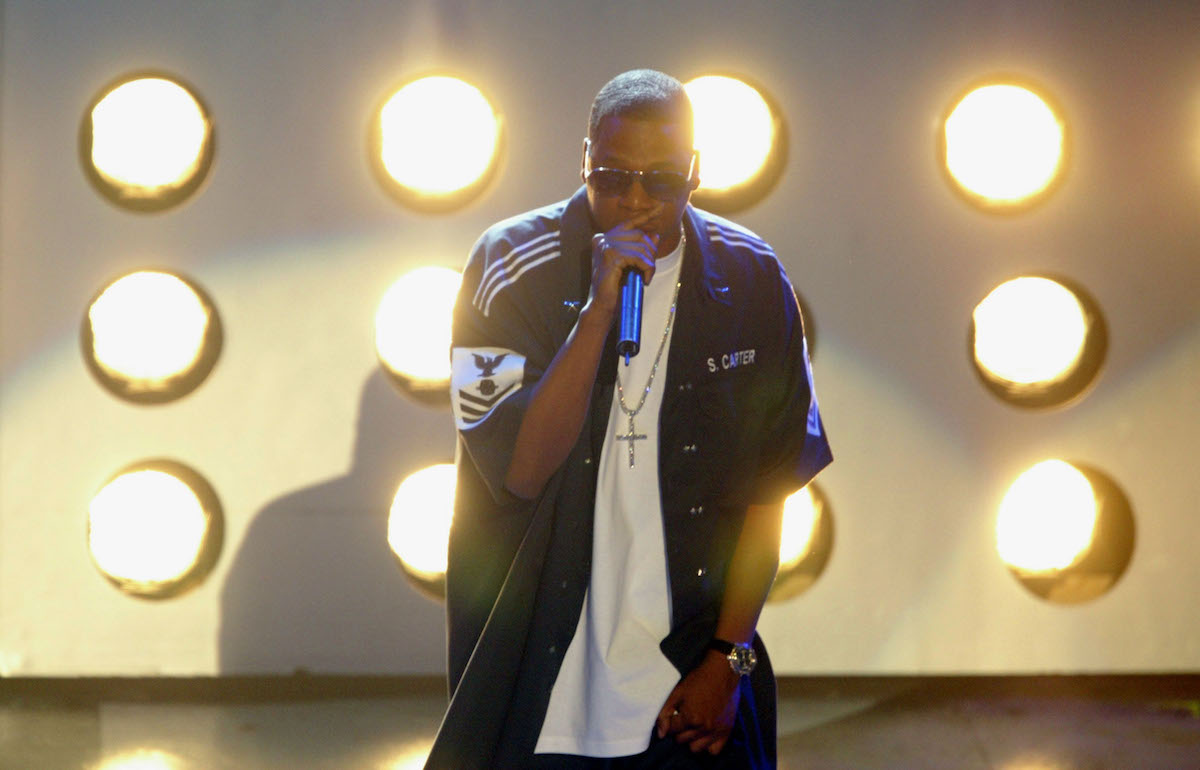 9. 4:44 (2017)
A common defense used by Jay-Z when he drops something mediocre is that he has nothing left to prove. But maybe Jay needed to realize that, too, and maybe that's why 4:44 ultimately works better than nearly all of his post-retirement albums. While it's a falsehood to proclaim 4:44 the first of it's kind—once-rival Nas dropped his own grown-man record five years ago, with a bunch of beats from No I.D.—the compelling central drama here is how Jay's titanic legacy is at odds with itself. In other words, it's a mid-life crisis made explicit. "Kill Jay Z" examines if Jay is still an American story worth telling even if it's against his best interest as a human being. The title track, in which he seems to admit to cheating on Beyoncé, is a lucid look at the consequences of that struggle: "Not meant to cry and die alone in these mansions / Or sleep with our back turned."
The clear focus adds color to Hov's once-prolific writing. The charm of "Smile" is two-sided: His fluid run through Hot 97 subliminals, sociopolitical references, and personal revelations is dazzling to watch, and his mother Gloria Carter coming out as gay may be a hallmark moment in hip-hop. The Blueprint 3 and Magna Carta Holy Grail didn't work because they centered on ill-formed missives told from an awkward place. 4:44 does have outward sniping (on "Moonlight": "We got the same fuckin' flows / I don't know who is who"), but it's the story of Shawn Carter that gets the deserved shine. — BJ
8. American Gangster (2007)
In which Jay-Z vicariously gets his groove back. The oft-told narrative is that American Gangster was birthed after Jay-Z caught an advance screening of Ridley Scott's film of the same name, which reminded him of his own formative years in the drug game. In other words, it took Idris Elba getting popped for Hov to make his own Superfly.
The three-act concept album takes a look at the internal and external pressures of hustling: The motive (on "American Dreamin'": "Mama forgive me, should be thinking about Harvard / But that's too far away, niggas are starving"); the rise ("Party Life": "I make it look good to be this hood"); and the fall ("Fallin'"). But the classic structure is more of a prompt than a rigid framework: At one point, he breaks the narrative to egg on Beanie Sigel and scoff at Don Imus on Just Blaze's glittering "Ignorant Shit."
One of the main knocks against American Gangster is how it lacks a haymaker hit—even Kingdom Come kinda had "Show Me What You Got." However, there's probably not a single weak song on here, and you can excuse the lack of commitment to the concept because of the verve of Jay's performances. His flow and language feel consistently precise and purposeful: When he briefly pauses while delivering the line "I gotta get you out of here mama or I'mma die…inside / So either way you lose me, mama, so let loose of me" on "No Hook," there's an entire act's worth of character development portrayed—from genuine exasperation to sordid resolve. American Gangster is also buttressed by sepia soulfulness produced by LV & Sean C and No I.D. Yes, Jay-Z is incredibly versatile—that's why he's the rare '90s rapper who isn't simply a legacy act—but American Gangster again proved that aesthetic has always been his greatest stimulus. — BJ
7. The Dynasty: Roc La Familia (2000)
The Dynasty is arguably the most underrated album of Jay-Z's catalog partially because of what's in its immediate purview. It dropped months after "Big Pimpin'" became inescapable, and less than a year later, The Blueprint completed Jay's growth into a universally beloved star. And although The Dynasty is officially a solo effort, it prominently featured the Roc-A-Fella street soldiers Beanie Sigel and Memphis Bleek. The project now feels very of a time because la familia has since splintered: Beanie is still known as a haunted street philosopher (see his recent turn on Pusha T's "Keep Dealing"), but he never really achieved star status. Memphis Bleek's arc went from "one hit away" to "he's never had that hit, but real ones know."
In any event, The Dynasty is crucial because it's where the skeleton of The Blueprint starts to develop. Before Just Blaze's brassy productions became the default soundtrack to B-Boy Valhalla, he got one of his first major looks by landing five beats on here (the cocksure "Streets Is Talking" is his first collaboration with Hov). Before producing a third of The Blueprint, Kanye West got credited on just one song—and that one happens to be one of Jay-Z's greatest, though we'll get to that in a bit.
The Dynasty also centers on one of the central dynamics of Jay's work: The tension between the ruthless chessmaster and the traumatized Marcy Projects alum beneath that exterior. Whereas other albums illustrated this with more nuance, The Dynasty sets itself apart by how it takes those opposites to their polar extremes, with the album featuring some of Jay's coldest ever bars. For those who came up in the boroughs, the bleak "Intro" still transforms into Spartan armor nearly two decades later. Jay spends "Streets Is Talking" describing how he'll break you apart with violent precision: "I'm comfortable dog—Brooklyn to Rome / On any Martin Luther, don't part with your future."
And yet, for all of gun brandishing and macking, The Dynasty closes with the sober "Where Have You Been," where the pain of absent fathers eventually breaks down the normally immovable Beanie Sigel. Earlier, Jay's respect for Houston pays off once more on the Kanye-produced "This Can't Be Life." As the known story goes, Scarface spit his verse right after finding out his friend's kid died. You can hear how fresh that wound is when his normally resolute voice slightly quavers—the lines "I could've rapped about my hard times on this song / But heaven knows I woulda been wrong" transcend self-righteousness because Scarface has taken the listener through that faith-affirming crucible. Those moments are the ones that contextualize The Dynasty's pugilism: These are men who fight because they bleed. — BJ
6. In My Lifetime, Vol. 1 (1997)
Jay-Z's sophomore album found the Marcy prodigy at the peak of his hunger for success and recognition. The rapper was attempting to move beyond the dustier, virtuosic gangsta-rap of Reasonable Doubt in favor of making a bid for the national and international spotlight. This was in the loose tradition of the man whose shoes he was attempting to fill, The Notorious B.I.G., his late friend who he was still mourning.
There was a wide margin of error for Jay's experiments, and thus there is some hot garbage on Vol. 1. Most enduringly is the single "I Know What Girls Like," which boasted a clunky, death-rattle of a beat, Diddy's cloying quote of a hook, and bars that can't hold a candle to Reasonable Doubt–"I said I never seen a face like yours before / And I been around some cute whores before," for instance.
Elsewhere, though, Jay sounds amazing on the more assuming, smoother cuts that exude the best of the ruling Bad Boy aesthetic–particularly "Imaginary Player" and "Lucky Me." Both were overseen by members of The Hitmen, that label's de facto production team. Other songs are extensions of the musical and lyrical themes of Reasonable Doubt, including one of the lyrical masterclasses of his career, "Where I'm From," which is packed with indelible lines full of sharp imagery: "I'm a block away from hell, not enough shots away from stray shells / An ounce away from a triple beam, still using a hand-held weight scale."
The album's strongest single is "Streets is Watching," and it was the only song from the album Biggie would be able to listen to. Big would pass away 8 months before the world heard it, and the rest of Vol. 1 would ultimately be realigned around his passing, featuring passages addressed to Jay's friend and even quotes from his songs.
On the tracks where Jay strikes the balance between narrative brilliance and suitable and stylish production, Vol. 1 feels like an album proffering a pretty distinct musical vision. It includes some of the best music Jay-Z ever made, and definitely some of his best rapping, even if these hot streaks are interrupted by some poorly-vetted Hail Mary attempts at relevance. In a 2009 interview with AOL Music, Jay himself called these tracks attempts to "get on the radio," and identified the album as the only one in his catalogue—at the time at least—that he is dissatisfied with ("the one that got away"). In 2013, however, he'd bump it up to #7 in his own power-ranking, claiming that the atonal R&B smush of "Sunshine" was the only sore spot: "[It] kills this one…fuck…."
In hindsight, In My Lifetime was really only as confused as mainstream hip-hop itself, which was in the midst of a decentralized, transitional year. Also, its moments of brilliance rank with the best music Jay-Z ever made, and at least its misfires, which seem to reject common notions of musical good taste, are somewhat fascinating in their odd, indeterminate conception. — Winston Cook-Wilson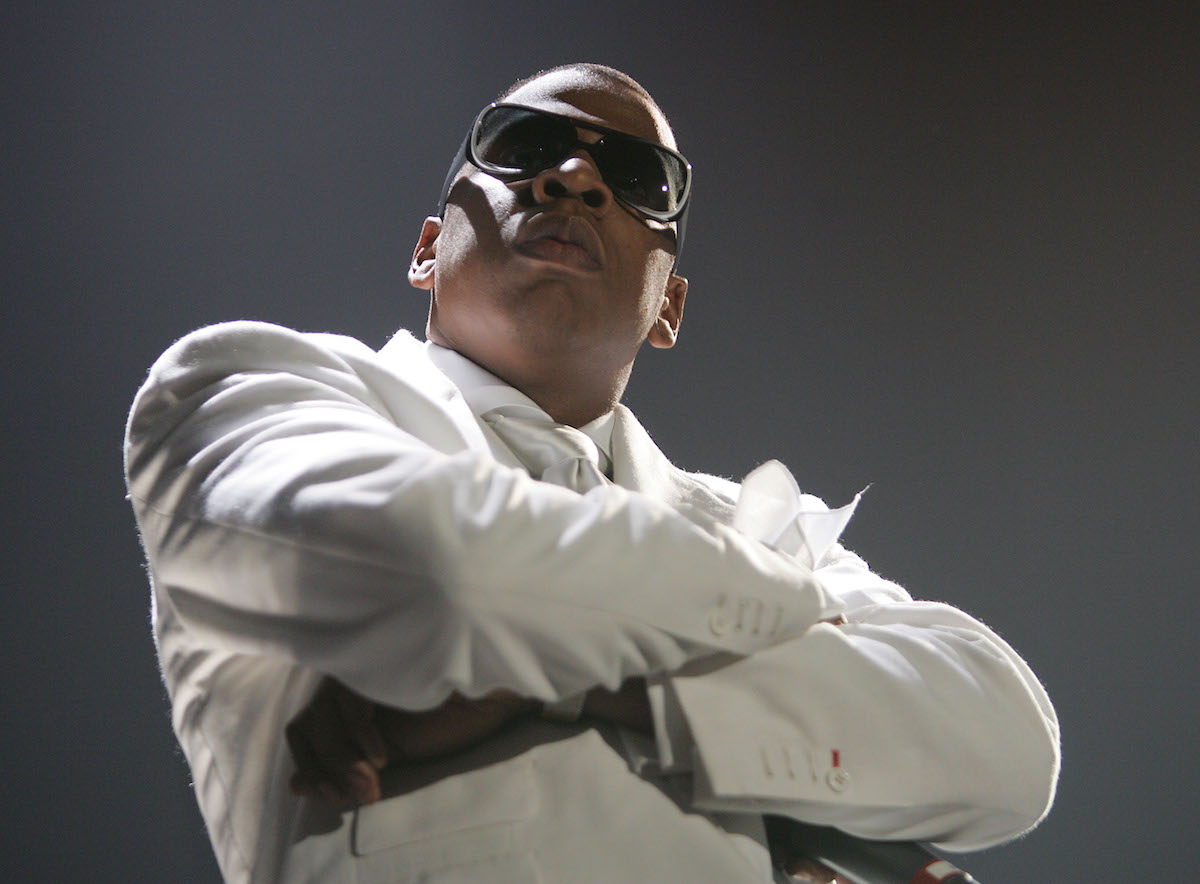 5. The Black Album (2003)
Jay-Z almost retired at the top of his game. In November 2003, he played what was to be his final show at Madison Square Garden, a kind of hip-hop Last Waltz featuring appearances from multiple generations of rap royalty, from Slick Rick to Missy Elliott, and a well-received concert film to boot. A week and a half before, he'd released The Black Album, an assured and diverse project that found him acknowledging his place at the top of the mountain without resting on his laurels quite yet. "I don't wear jerseys, I'm 30-plus," he rapped on the triumphant "What More Can I Say?," an oddly charming boast that nonetheless gave a glimpse of the stagnant dad-rap into which he would fully delve on his ill-fated comeback Kingdom Come. But a few songs later, on the pensive Eminem-produced "Moment of Clarity," he admitted that he still wasn't satisfied with what he'd accomplished, shouting out his comparatively lesser-known peers Common and Talib Kweli as the artists who inspired him to work harder.
The Black Album has just about everything you could possibly want in a Jay-Z record: a world-conquering hit and a newly minted catchphrase in "Dirt Off Your Shoulder," some sly political commentary and a boombox-obliterating beat in "99 Problems," grizzled nostalgia on "My First Song" and "December 4th," the presence of Kanye West on "Lucifer," plus spectacular shit-talk and some of the greatest opening bars in history on "P.S.A." Despite its title, The Black Album is a technicolor collection of music, and with the sole exception of the limp single "Change Clothes," the force of Jay-Z's enormous personality holds it all together. It was the high note he should have gone out on. — AC
4. Vol. 3… Life and Times of S. Carter (1999)
Jay-Z finally broke through as a pop star in 1998, thanks to two songs: the improbable Annie flip "Hard Knock Life (Ghetto Anthem)," and "Can I Get A…" which was tied to Rush Hour, that year's quarter-billion dollar comedy. Jay had previously struggled with translating himself for a pop audience on a purely aesthetic level—a baldfaced crossover attempt in the form of 1997's "Sunshine" was both ill-fitting on an artistic level while also not even accomplishing the intended goal of getting him onto the charts—but in '98 he stumbled into the pop success he had so doggedly sought.
Still, his subsequent album Vol. 3… Life and Times of S. Carter proved he hadn't quite figured the pop game out. Jay's 1999 was marked by two more big hits: "Jigga My Nigga" and "Girl's Best Friend," but both only showed up on his solo album as hidden tracks. (He also spit a perfect verse on Mariah Carey's "Heartbreaker.") The first instead appeared on the Ruff Ryders compilation album Ryde or Die Vol. 1, and the latter was for another movie soundtrack—the lowkey Martin Lawrence diamond heist classic Blue Streak. Jay's own Vol. 3 instead led with two forgettable singles: the Timbaland-produced "It's Hot (Some Like It Hot)," whose ice-cold verses didn't take to pop radio, and "Things That U Do," a whistling Mariah collaboration that has actually aged well but was ignored by pop audiences.
Once again, though, Jay would find a career-altering smash. Four months after the release of Vol. 3, he dropped "Big Pimpin'," which is, of course, quite easily one of his best and biggest singles ever. Still, it's a song that almost didn't happen—Jay had to hard sell Bun B and Pimp C on doing the song because they were worried that the crossover record would be seen by their fanbase as a betrayal. (Pimp also refused to travel to Trinidad for the video shoot.) That concern is funny in retrospect, for all parties involved, because in many ways "Big Pimpin'" was the song Jay had been searching for his entire career—an undeniably catchy and unifying song that nonetheless did not betray his roots.
The confidence with which Jay carries himself on "Big Pimpin'"—that of an artist conquering not just his block or his city, but the world—courses through the album. The beats here are menacing and chromatic—Jay recognized that the shiny suit era had come to a close, and so instead he gravitated towards productions that mirrored the uncompromising sneer of his lyrics. As a result, Vol. 3 houses several of Jay's most memorable non-singles: "So Ghetto," a stuttering and delirious lyrical showcase ("Brandish iron, outlandish buyin'"); "Snoopy Track," a thick and smeared homage to Southern rap featuring a chorus in which Juvenile sounds like an oracle; and "Come and Get Me," a pristine Timbaland production in which Jay irritatedly addresses that exact crossover dilemma ("Went on MTV with durags, I made them love you / You know normally them people wouldn't be fucking with you / Til I made 'em understand why you do what you do.")
Jay would put out a more perfect album two years later, and like many of his records this one features slightly too many songs that are either regrettable of forgettable. But the best songs here were just about the best this era of rap music had to offer. — JS
3. Vol. 2… Hard Knock Life (1998)
On his third album, Jay-Z began to ease into a playfulness that came as easy to him as being a hardass, setting up a contrast between his paranoia and desperation and the deftness of his untroubled flow. More than anything, he created a unified musical picture for the first time, on what would be the first great pop-rap blockbuster of several that would come in rapid succession. 
Vol. 2 hangs its hat on the work of producers who were doing their best to surprise with every new beat at that time–formidable talents Swizz Beatz and Timbaland, in particular. This approach gave Vol. 2 a distinct feeling of modernity–not forced, but state-of-the-art. In sound, it was an exchange between motoric aggressiveness ("If I Should Die"), club swagginess (timeless Jermaine Dupri-masterminded classic "Money Ain't a Thang," Irv Gotti's "Can I Get A…"), and harder-to-characterize composites like the Superfly-sque "Reservoir Dogs" or the spacey diversion "It's Alright (Streets Is Watching"). Jay seemed to feel comfortable at every turn.
Even one of the album's most bizarre musical moments would prove to be a disruptor on the charts. "Money Cash Hoes" was backed up by what sounded like an orchestra of double-basses randomly rattling your speakers by ominous random plucking all while Swizz Beatz kept accidentally dropping something on the upper part of his keyboard. But over it, Jay was both as buttery or as stubborn as he needed to be, with a meta-message to his detractors: "I know they gonna criticize the hook on this song / Like I give a fuck…I'm just a crook on this song!" Jay Z was learning the value of being versatile. In a smart business move, the song wisely featured the other heir apparent to the throne of Greatest Rapper in New York: the definitively unhinged DMX, his future tour mate who delivered two No. 1 albums in 1998, and who provided the perfect foil.
Jay came into his own as a master curator on Vol 2., stepping outside of the shadow of other people's sounds and empires, namely Biggie's genre-redefining craft and Bad Boy's patented sleekness. Jay's early fans and wary critics might have been resistant to the album's Game Boy-ish sounds and streamlined choruses, but the truth was that here Jay-Z was finally beginning to help set trends rather than follow them. Collaborators were no longer making him; he was helping to make them.
Vol. 2 is in the select club of classic rap albums that are elevated rather than bogged down by their intense, grab-bag roster of features. The record comes across like a lavish party hosted by Jay-Z, if one in which the listener gets roped into one too many conversations with Memphis Bleek. Whatever the exact alchemy of Jay's formula, it made for his first true commercial success, both in album sales and single play. Though he boycotted the ceremony because of its under-representation of rap talent, Vol. 2 was also his first Grammy win–an arbitrary but nonetheless significant anointment that helped him move further into the mainstream. Today, it easily scans as one of his most enduringly listenable albums. –-WCW
2. Reasonable Doubt (1996)
There's an alternate reality in which Kanye West isn't a superstar, Rocawear is simply a typo, and the "Summer Jam screen" is just a screen. Reasonable Doubt was supposed to be Jay-Z's only album. After major labels passed on him even though he'd already proven multiple times that he might be the sharpest rhymer in the game, the debut was going to be the Roc-a-Fella clique's lone, self-aggrandizing testament to that greatness. "I think that's the reason why it was so good," DJ Clark Kent told SPIN  last year. "'Yeah, we gon' do it. We gon' put this record out and we gon' walk away.' That's what the plan was." Reasonable Doubt was also aimed toward a very specific group of people–those intimately familiar with dark, street-level capitalism. In a retrospective 2009 interview, Jay said the project was for the "guys who were out there just like me." "It was like a secret missive. It was in code [for people who] really lived that life could really feel."
The hindsight narratives often point to how Reasonable Doubt is a classic that happens to be a slow seller (a fact Jay himself has harped on), and also how it started to signal that Jay might be Biggie's true successor—after all, his appearance on "Brooklyn's Finest" was a big look. All of that overlooks the pure magic of this opus, though. New York had changed multiple times over and the hustlers of Jay-Z's day were a dying breed, however, Jay was so gifted in his prose that people still use lines from this album as guiding maxims. Not the songs or verses—the lines, which are delivered in ways that willed themselves into ubiquity.
"On the rise to the top many drop don't forget / In order to survive, gotta learn to live with regrets"–"Regrets"
"Money make the world go around so I made some to spend"–"Bring It On"
"You let your shit bubble quietly (And then you blow) and keep it cool"–"Coming of Age"
The morose and soulful production was inspired by what the collaborators grew up listening to. When those records reappear here, they don't simply work to place Reasonable Doubt within a lineage—they're deployed in ways that augment Jay's realism. On "Dead Presidents II," the sentimental keys of Lonnie Liston Smith's "A Garden of Peace" are the bleak accents to Jay's violent sacrilege ("Though his eyes said, "pray for me" / I'll do you one better and slay these niggas faithfully"). Isaac Hayes' "The Look of Love" arrives to give "Can I Live" a cathartic swing, a pained respite for Hov: "My mind is infested with sick thoughts that circle like a Lexus / If driven wrong it's sure to hurt you."
Two decades later, Reasonable Doubt still stands as a work of confidence and clarity. It also turned out to be a learning experience for its star: even the ghetto could elicit empathy. "A lot of people emulated it and related to the emotions," he said in the same 2009 interview. "Even if you didn't live that life, the emotions, the angst, and the paranoia and fear—I didn't know that was a common emotion in human beings in general."—BJ
1. The Blueprint (2001)
Scarface's verse on the lowkey Jay-Z classic "This Can't Be Life" is still the most acclaimed and resonant part of that song—but it certainly isn't the only reason it's essential. Right before he steps to the mic, Jay throws out a line with such resolution, you forget it isn't a universally accepted truth: "Everybody got a story. We all ghetto, b." A big part of Jay's significance was how he embodied that idea. He wasn't just the superlative—the strands of his biography that he examined on record burrowed themselves within you in a way that made you feel like you mattered. That charm peaked in 2001. Reasonable Doubt is the starting point of the Top 5 conversation—The Blueprint cemented it.
Some of the attributes that made Reasonable Doubt's long reach a surprise are the same ones that made The Blueprint a cultural centerpiece. The throwback soul and R&B reappear with remarkable fidelity; within a year, Kanye West, Bink, and Just Blaze sanded off previous album The Dynasty's ruggedness to again make a worn aesthetic feel definitive. This didn't necessarily soften Jay up (track two is rap's greatest diss song), but it was a space that allowed his lines to stick when they needed to. This is how the torrent of quotables on "U Don't Know" and the unshakable cool of "All I Need" still feel urgent—never mind how the Rocawear shoutout dates the latter.
This is doubly impressive when you consider how those words rarely feel manufactured: They were of a particular experience that the wider audience gravitated toward. Yes, Jay and Nas were at war, but when the former remarks "I'm like a dog–I never speak, but I understand" on "Never Change," you can hear a distant connection to Nas being "too scared to grab the mics in the parks and / kick my little raps 'cause I thought niggas wouldn't understand." The contexts are different, but it's the black voice being swallowed by circumstance all the same. On the beautiful closer "Blueprint (Momma Loves Me)," Jay takes time out to reminisce on what might seem mundane on first reading: "Eric fought me, made me tougher / Love you for that my nigga no matter what, bruh." Here, the brotherly paradox of physicality and vulnerability is explained beautifully in two bars. With The Blueprint, there's a catharsis in hearing that those are shared experiences.
Of course, an inextricable part of The Blueprint's story is how its release date happened to fall on Sept. 11. Whereas the Strokes were a rallying point west of the river, east of Prospect Park, Hov was a sliver of light. I was in fifth grade when I watched my classmate grow red-faced from violently sobbing at his desk, fearing that his mother didn't escape the towers' collapse (she did). The next day another classmate brought to school a piece of debris that landed outside of his Brooklyn doorstep, an early reminder of our own mortality. But by the next week, we were heartily singing "Izzo (H.O.V.A.)." Jay-Z had been rapping longer than we'd been alive, yet with Blueprint, he'd become a source of pride that felt specific to us. —BJ