Guns N' Roses' debut album Appetite for Destruction was released July 21, 1987. In honor of the album turning 30, we've digitized this profile, which originally ran in the January 1988 issue of SPIN.
"Don't tell me you never threw a fuckin' TV set out a window."
Duff McKagan and his band, Guns N' Roses, have an image problem. Their debut album, Appetite for Destruction, is making its way toward Billboard respectability, and they're beginning their tour with Mötley Crüe, but people don't seem to want to concentrate on the band's, uh, art. "People don't really like us, they think we're dickheads from hell," says Duff. "And they write a lot of shit. But imagine yourself being 22, in a band on the road, loving and getting alcohol and women everyday. They'd start talking about you, too."
Singer Axl Rose interrupts his account of how he taped one of his sexual encounters and put the moans on the album, to chime in: "Yeah, I don't know whether they think it's irrelevant or whether they think our music is not credible, but they are not writing about it. The biggest bands in the world have done everything we do and more."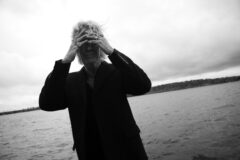 In the back of the tour bus, Axl tells his bodyguard Ronnie to attend to the seven women with whom he has had sex in the last three days, all of whom have managed to get on the bus at the same time, and he begins to talk about religion. "I've been singing since I was five years old," he says. "I sang in church from the age of five until I was 15. It was a Pentecostal holy roller church, eight miles out in the country. I played the piano in church. I even taught bible school one year. Then I got into The Greatest Gospel Hits of the '70s, and it was all over."
But before Axl can explain how his religious background figures into Guns N' Roses, turbulence once again bursts in–in the person of Slash, the band's vodka bottles have been disappearing. "It's [Mötley Crüe drummer] Tommy Lee's little sister," he says, swinging his bottle of Jim beam. "She's a real pain in the ass."
The tour manager promises to take care of her, and tranquility, however fragile, is temporarily restored. But even this is short-lived, as the mythological contingencies of being an old-fashioned rock'n'roll band–not to mention seven unhappy women–hover just outside.
"This year," Axl says, "I was only arrested once, at the Canadian border, for my stun gun. I didn't know they're illegal there."
"Slash and I almost got arrested in Seattle," adds Duff. "We went back there for a little vacation, we were going to burn some bar down. Then on the way back to L.A., we were drunker than shit, and we sat next to this kindergarten teacher on the plane. First she told us to calm down. Then she pulled out this book she wrote called From A to Z, and she read it to us, and drew pictures for us. By the end of the flight we were so tranquil, we went right to sleep."