I have no idea why anyone goes to wax museums. The uncanny-valley thing is just as easy to appreciate in a photo, and a real-life selfie with a celebrity—even D-list—is still cooler than posing with a glassy-eyed replica. But one guy who goes by "Joe" on Twitter went to a Madame Tussauds wax museum anyway, and found this mannequin calling itself Beyoncé:
Beyonce' wax figure at @MadameTussauds is FIERCE! pic.twitter.com/7UDyi9VEWT

— Joe (@CCFan007) July 18, 2017
As the internet soon realized, wax Beyoncé is perplexingly pale, and her facial features are so vague as to resemble just about anyone else—Shakira, or Lindsay Lohan, or Jessica Simpson, or Britney Spears, or maybe, if you squint, Maya Rudolph playing Beyoncé on SNL. Compared to the real Beyoncé's elaborate, couture-worthy stage costumes, wax Bey looks like she just left the Halloween store. How did this happen? Allure magazine editor Michelle Lee has a theory:
Theory: Beyoncé wax figure makers have never seen Beyoncé pic.twitter.com/bZ2PWCUzUs

— Michelle Lee (@heymichellelee) July 19, 2017
The second Beyoncé in Lee's tweet (in pink) isn't from Madame Tussauds, but rather from rival Louis Tussaud Waxworks, an establishment with a reputation for subpar craftsmanship. Wax Beyoncé wearing pink already went viral this January. The third Beyoncé is a Madame Tussauds creation: Getty Images records that statue, or a duplicate, on display in Hollywood in 2009 and in New York in 2004. It appears the real Beyoncé even posed with it once. The orange satin dress, one hopes, was intended to imitate a look from the "Crazy in Love" video.
In fairness, Madame Tussauds did get this right at least once: This more recent wax Beyoncé (photographed in London in 2014) perhaps isn't #flawless, but at least it's recognizable, and the white leotard is a respectable replica of an actual performance outfit.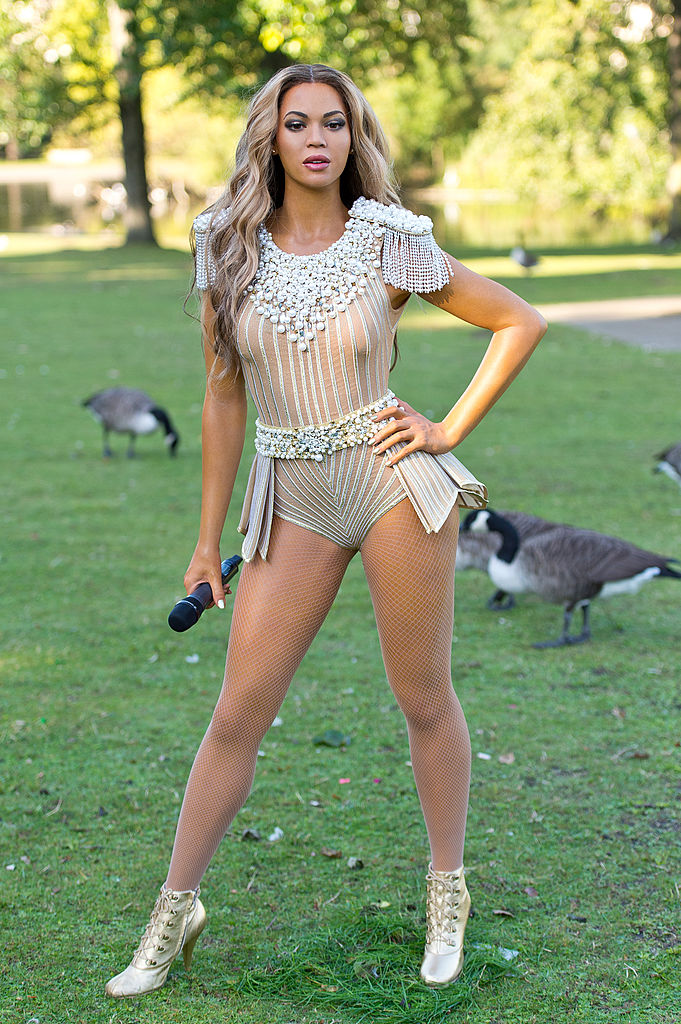 Look, someone knows how to do this! Why the geese, though?
Update (3:20 p.m. ET): Madame Tussauds New York responded to SPIN's inquiry with the following statement:
At Madame Tussauds, our talented team of sculptors take every effort to ensure we accurately colour match all of our wax figures to the celebrity being depicted. Lighting within the attraction combined with flash photography may distort and misrepresent the colour of our wax figures which is something our sculptors are unable to account for at the production stage.