Two excellent David Bowie box sets have come out within the past two years, Five Years 1969-1973 and Who Can I Be Now? (1974-1976). The series of career-spanning reissues, which include remastered versions of his studio albums as well as various extras, will continue with a survey of what is likely Bowie's most musically innovative and critically revered period: his years working in Berlin and their direct aftermath.
A New Career in a New Town (1977-1982) is due out from Parlophone on September 29, and will include either 11 CDs or 13 LPs, including Bowie's trio of "Berlin albums" co-produced by Brian Eno–Low, Heroes, and Lodger–and their stylistically-related followup, 1980's Scary Monsters (And Super Creeps). Notably, there is an entirely remixed version of 1979's Lodger, perhaps the most underrated of the group, by Tony Visconti, Bowie go-to producer for most of his career. (The project, as the announcement on Bowie's official site notes, began with "David's blessing" in January of last year prior to his death.)
There's also a new deluxe reissue of Bowie's 1978 live album Stage, the Baal EP featuring music Bowie sang for a 1981 production of the Bertolt Brecht play of the same name, a disc compiling all of the different commercially-released versions of the song "Heroes," and more. The set, 100+-page photo book and all, should be a must-have for Bowie superfans. Read the full details here.
[h/t Pitchfork]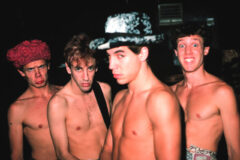 https://youtube.com/watch?v=o6uvYuEyUY4