Aaron Carter and girlfriend Madison Parker were arrested for alleged marijuana possession in Georgia on Saturday. The couple are now out on bail, and after a rough weekend, Carter is comforting himself with this very harrowing framed drawing he says was gifted to him by his "mentor/friend" Michael Jackson:
Final thoughts before I final get some sleep… pic.twitter.com/lPmz2UGMnD

— Aaron Carter (@aaroncarter) July 17, 2017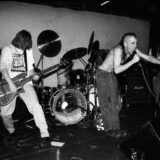 "As I lay restless I remember this moment that happened at Wango Tango this spring," Carter wrote, referring to KIIS FM's annual Los Angeles concert. "My mentor/friend Michael Jackson left this for me to have one day and many thanks to Raffles for gifting this to me at a much needed time. Looking back at my life, these words hold so much more weight today than they ever have." The drawing depicts Jackson as a young boy, and the words are a quote from his song "Childhood": "Before you judge me, try hard to love me / Look within your heart, then ask / Have you seen my childhood?"
Carter's love for Jackson is well-known: Longtime followers of his Twitter feed will recall that, in 2015, he briefly went viral for claiming that Jackson "followed my whole career from the beginning" and personally "passed down the torch." In 2011, Carter denied telling a reporter for OK! Magazine Australia that Jackson supplied him with alcohol and cocaine at age 15. The reporter, Daphne Barak, countered that Carter had "also said that Michael invited him to sleep in his room, and when Aaron woke up at 5:00 AM, he found Michael on his bed." This account appears in audio recording on YouTube, apparently a clip from Barak's interview with Carter, though SPIN cannot confirm its veracity.
Whatever the real nature of his relationship with Jackson, Carter's fondness for the drawing points to a sad parallel for former child stars of celebrity music families. (Carter first opened for older brother Nick Carter's band the Backstreet Boys at age 9.) Jackson and Carter also have at least one more thing in common: A relationship with the middleman in this story, who Carter refers to in his note as "Raffles." Raffles is a man who goes by Raffles van Exel, a mysterious, self-described "entertainment consultant and producer" whose infamy peaked in close proximity to gossip items about Whitney Houston's death in 2012. He's long been named in connection with numerous troubled celebrities, including Jackson and O.J. Simpson, and his appearance in the saga of Aaron Carter adds an even more sour aftertaste to a story that is already pretty depressing. Don't let your kids be famous.