On Monday, the Supreme Court ruled unanimously in favor of an Asian-American rock band called the Slants in their case against the U.S. Patent and Trademark Office. The Slants had attempted to trademark their name in 2011, and the USPTO turned them down based on a "disparagement clause" in federal trademark law, which prohibits the registering of trademarks that could be offensive to particular groups or people. That clause, the court ruled, is unconstitutional, because it violates the free speech provisions of the First Amendment.
The court's decision is good news for The Slants, of course, but also for the Washington Redskins. The Skins lost their designation in 2014 under the same clause that the Slants were fighting in court, and while the Slants case does not involve the team directly, it's a clear victory in their fight to keep their name. In his opinion on the case, Justice Samuel A. Alito Jr. referenced an amicus brief the Redskins filed last year in support of the Slants.
And as the Washington Post's Dan Steinberg noted on Twitter, a section of that brief not mentioned in the decision used the existence of Young Thug's trademark on his rap name in an attempt to show that the USPTO's enforcement of the disparagement clause is hypocritical. The brief also included references to Limp Bizkit, Barenaked Ladies, Circle Jerks, Nappy Roots, and N.W.A. A few screenshots of the relevant excerpts, alongside a lot of other colorful marks, are below.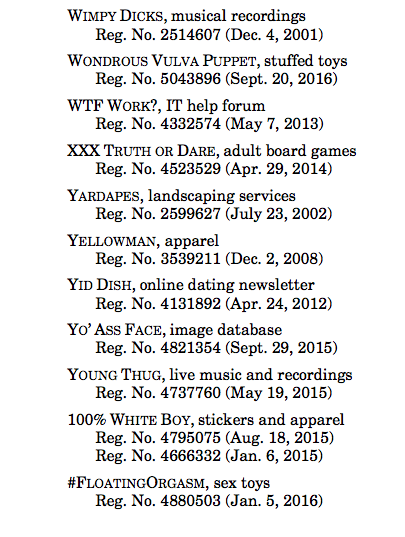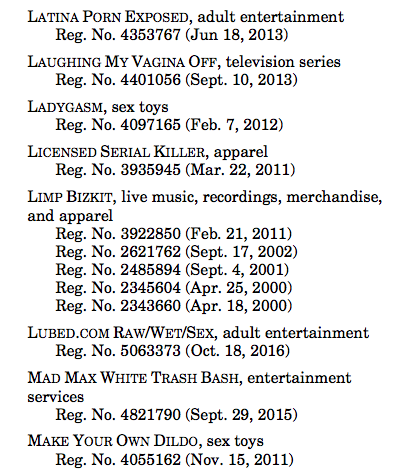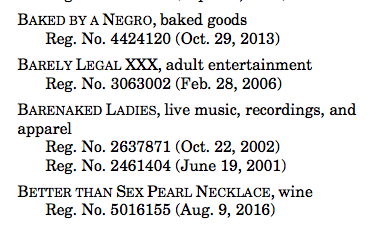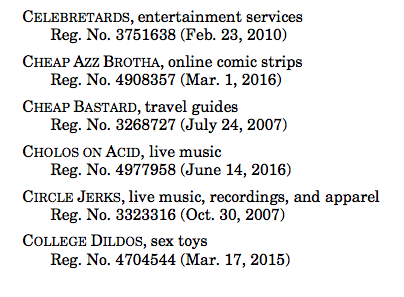 Another section of the brief, focused on the USPTO's contention that registered trademarks constitute government speech, also mentioned the Sex Pistols and Steely Dan (named after a dildo in William Burroughs's Naked Lunch).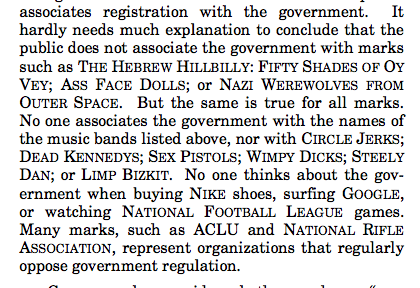 It's a bummer that the decision means the Skins will likely go on using their shitty racist name, but it's ultimately a good thing for free speech that the Slants won their case. As bandleader Simon Tam put it, for them, the slur is a "badge of pride." He added in a Facebook update that for him, the case had been about "the rights of all marginalized communities to determine what's best for ourselves."
See the Redskins' full amicus brief here. If you're interested, hear "From the Heart," from the Slants' cheekily-titled The Band Who Must Not Be Named EP, below.