Radiohead has caught a great deal of flak from musicians, activists, and fans about their decision to go through with playing a concert in Tel Aviv, Israel on July 19. Early this month, Thom Yorke responded to the criticism unapologetically in Rolling Stone, calling the backlash "offensive" and "extremely upsetting," and citing other artists who agreed with his position (Noam Chomsky and J.K. Rowling).
Pitchfork has now rounded up a few of the more pointed responses to Yorke's explanation over the past few weeks, including a letter from the group Artists for Palestine UK, who had previously issued a statement to Yorke in late April, along with a petition. In the new letter, the group criticizes Yorke for not acknowledging that playing the show functions as a "political statement," and wrote:
Palestinians who read Yorke's comments will wonder if he knows anything at all about their dispossession and forced exile, and what it's like to live under military occupation.   He doesn't mention the Palestinians other than to say guitarist Jonny Greenwood has 'Palestinian friends'.   A lot of us do, Thom.   That doesn't mean we think it's okay to play a 40,000-strong stadium built on the ruins of a Palestinian village.
The original April petition was signed by Archbishop Desmond Tutu, Thurston Moore, Juliet Stevenson, TV on the Radio's Tunde Adebimpe and Robert Wyatt, among many others. Roger Waters has publicly condemned Yorke for his comments, taking to Rolling Stone about his futile attempts to contact and "engage with [Yorke] personally" to counter Yorke's claims that his critics had "throw[n] shit" at the band publicly rather than coming to him directly.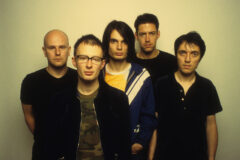 Fan groups have also coalesced because of Radiohead's decision to follow through with the concert. You can read a statement from the group Radiohead Fans for Palestine on a "Radiohead Don't Play Israel" blog here,