Singer-songwriter and analog-synth technician extraordinaire Kaitlyn Aurelia Smith has released a cover of one of Sade's biggest hits, "By Your Side," from the band's 2000 album Lovers Rock, for free download on her Bandcamp page. Smith's take on the ballad is fractured but beautiful–all swelling, lightly glitching synths with no percussion, and punctuated by stray, desperate breaths. Aurelia's voice is, as is customary in her music, electronically manipulated into sounding like a small chorus of digital automotons, but its humanity shines through the effects chain more than usual.
Of the cover, Smith explains in her Bandcamp description:
"Lovers Rock was the album I listened to the most when I was 15 and decided to start writing songs. Sade has always been a favorite vocalist of mine – so emotive and honest and true. To me, her voice glides naturally across genders and genres, which is a quality I also work to embody with my vocals. Sade is pure class in my book."
Stream and download Smith's "By Your Side" below.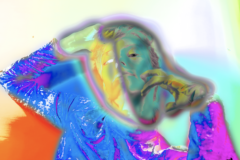 https://bandcamp.com/EmbeddedPlayer/track=1914695732/size=large/bgcol=ffffff/linkcol=0687f5/tracklist=false/artwork=small/transparent=true/