The remix of Luis Fonsi's "Despacito," featuring Justin Bieber and Daddy Yankee, is the No. 1 single in the country. It was the No. 1 single the week before, the week before that, the week before that, the week before that—you get the idea. It's as dominant of a summer single as we're likely to see, and at least one of its singers doesn't know the words.
At the end of May, Bieber was filmed performing at New York club 1 OAK, when "Despacito" came on. Instead of singing along properly, he ad libbed lyrics like "blah blah blah" (sort of funny) and "I just want a burrito" (hmmm, pretty racist). Yesterday, footage emerged from his performance at Sweden's Summerfest, where Bieber said he couldn't perform the song because he didn't know it. A water bottle was thrown at his head for the disclosure.
Here are his Spanish lyrics on "Despacito," according to Genius (and the English translation, via Billboard):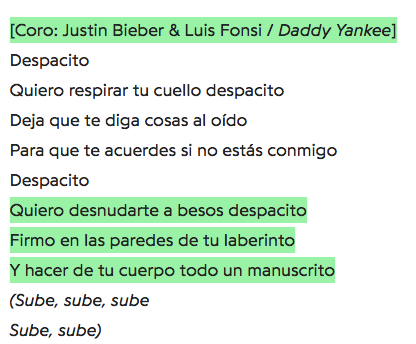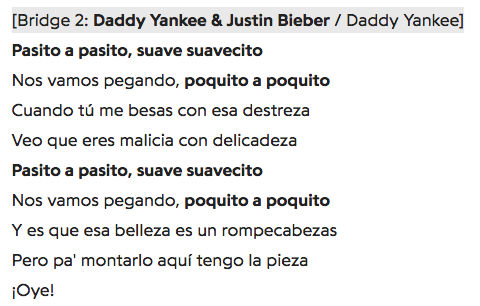 The first verse is repeated twice, and he sings "Despacito" at the very end. I can't speak to the authenticity of Bieber's delivery on the recorded version of the song: In a roundtable at Remezcla, Julianne Shepherd wrote, "I definitely felt like he was reading from a teleprompter, or just gingerly mimicking Luis and Daddy Yankee phonetically." In the same roundtable, Bieber also faced more accusations of being a culture vulture. For what it's worth, Fonsi, the creator of the song, defended Bieber's bad singing. "That chorus is not easy to sing, even for fluent Spanish singers like myself," he said.
Regardless, we're not talking about the authenticity, but something else. It's not much of a stretch to suggest that Bieber, as a professional entertainer, might be expected to know his own songs. It might not be easy to sing… but that's his job to know. When Beyoncé performs, she doesn't flub the words to "Single Ladies." When Metallica perform, Kirk Hammett doesn't bail on the solo to "One." Imagine if he addressed the crowd: "It's kind of hard to play. Here, enjoy 'Smoke on the Water' instead." You'd be pissed!
When I took Italian courses in grade school, the teacher would have us recite long poems from memory. Some of this was enabled by our ever-improving familiarity with the language, but some of it was just rote memorization—repeat a poem dozens and dozens of times, as I did, and the cadences and words will inscribe themselves in your brain. It's why, years later, I can remember "La Befana vien di notte" as instinct, even though the meaning has been long lost to me.
This shouldn't be hard for Bieber, is what I mean. You could probably learn the lyrics to "Despacito" in a day, even if you didn't speak Spanish. He should, too.