Gene Simmons, KISS frontman and master capitalist, has filed a trademark application for a hand gesture that looks an awful lot like the heavy metal horns, the "rock on" hands–whatever you want to call them. It would be ridiculous for Simmons to claim such an iconic and widely used symbol as his own, but also understandable on some level, since the horns are within his purview as a hard rocker. But the gesture that he's trying to trademark has little if anything to do with sex, drugs, or rock n roll: It's the American Sign Language symbol for "I love you."
Everyone, of course, knows the devil horns: Index and pinky extending toward the sky; thumb, middle, and ring fingers tucked into a little ball. As The Hollywood Reporter notes, Simmons filed a trademark application with the USPTO on June 9 for a gesture that's similar, but with one crucial difference. It's right there in his application (emphasis ours): "The mark consists of a hand gesture with the index and small fingers extended upward and the thumb extended perpendicular."
The application also includes a drawing: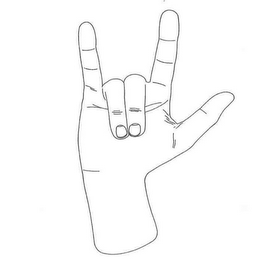 No self-respecting metalhead would show up to a concert with thumb extended perpendicular! But as you can see from the photo above, and the many more available online showing Simmons' message of devotion to the ASL-speaking community, he is evidently no self-respecting metalhead.
Simmons' application only covers use of the sign for uses of "entertainment, namely, live performances by a musical artist; personal appearances by a musical artist," THR notes, so the ASL community needn't worry about having to pay the guy a fee every time they want to get cute with their boyfriends and girlfriends. Read the full story–which includes a very funny anecdote about Jay Z, the pro wrestling great Diamond Dallas Page, and the garish electro duo 3OH!3–here.