During their set Friday at Iceland's Secret Solstice Festival, Foo Fighters premiered a new song called "La Dee Da." The band also played their recent single "Run" for the first time live, as well as another new song "The Sky Is a Neighborhood," which previously had only been performed live during an acoustic set with Grohl and drummer Taylor Hawkins
"We only have 22 minutes left, but I want to play you all the new fucking songs…let's play 'La Dee Da'" Dave Grohl said before launching into the previously unheard track.
Grohl's eight-year-old daughter Harper also performed for the crowd, playing drums as the band covered Queen's "We Will Rock You."
"My daughter said 'Daddy, I want to play the drums.' And I said, 'Okay, you want me to teach you?' She said yes. And then I said, 'Do you want to get up on stage in front of 20,000 people in Iceland and play?' And she said yes," Grohl said. "There's another Grohl at the drum set now."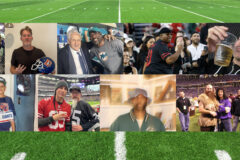 Watch videos of the performances below.
https://www.youtube.com/watch?v=N-tJVdJRd4Y
https://www.youtube.com/watch?v=5P_kItSGFGw
https://www.youtube.com/watch?v=wnjwCSeT_tA